WHS to host blood drive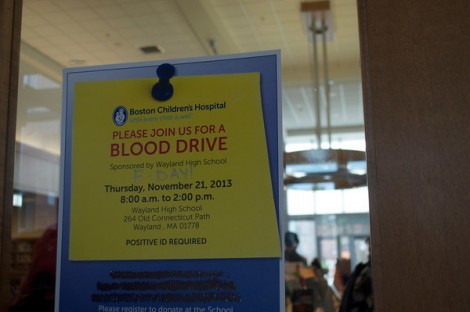 Students and staff who are eligible to donate blood on Thursday, Nov. 21 from 8 a.m. to 2 p.m. may do so at WHS. The blood will be donated to the Boston Children's Hospital. Donors interested in signing up should see the school nurse.
In order to be eligible, students must be 16 years old with parental permission or 17 and older without parental permission, and they must weigh at least 110 lbs. Many precautions have been taken to ensure student safety.
"One of the reasons why the U.S. has the best blood is because we have so many restrictions surrounding it," senior Mylinh Tran, who is organizing the drive, said. "So, even before you go into the blood drawing process, they make you fill out this questionnaire that questions the donor on whether they have had HIV, if they've been pregnant, if they have certain diseases and where they have traveled."
There are also many precaution regarding the actual blood drawing process.
"All of the needles used are sterile," school nurse Amy Schoeff said. "They are one-use only, so they are thrown away. The people who are doing the drawing are well-trained and are wearing gloves."
According to the Red Cross, someone needs blood every two seconds, and one car accident victim might need as many as 100 pints of blood. WHS also hosted a blood drive last year.
"I think it's different from normal community service because with community service, you're helping your community, but [during blood drives], you're literally giving part of yourself to save lives," Tran said. "The fact that one pint can save lives is so amazing because you don't really realize how much people need the blood."
Donors should drink plenty of liquids and not skip any meals before they donate blood. Donors can find more information on the Boston Children's Hospital blood donor website.
If you have any further questions, you can contact the Blood Donor Center at the hospital at 617-355-6677.