Sydney Schaefer: It takes your mind away from everything else that's going on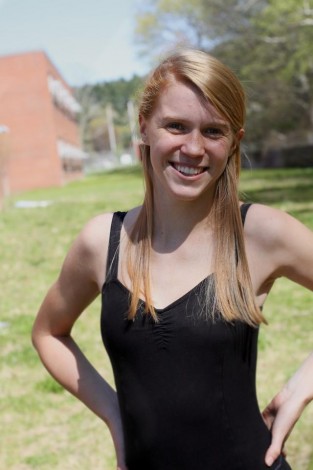 If you've been to one of the Window dance performances in the past three years, then no doubt you've seen senior Sydney Schaefer dancing her heart out on stage. This spring, Schaefer will take on a leading role as one of the directors of the troupe.
After taking ballet and tap classes at age five, Schaefer put dancing on hold for five years until fourth grade. Since then she has taken ballet, modern and jazz classes. She has also joined the A Step Above Dance Company at Dancers Workshop in Sudbury and WHS' own Window dance troupe where she performs many different styles of dance including hip-hop, lyrical and broadway.
Schaefer dances about eight and a half hours a week in the fall and winter and 18 hours a week in the spring. During show weeks she dances at least six hours a day. Despite the time it takes up in her schedule, Schaefer has always seen dancing as a stress-reliever outside of sports and school work.
A major step in her dance career was when Schaefer successfully auditioned for Window her freshman year.
"Up until I made Window I was just taking classes and learning different stuff and then performing it," Schaefer said. "Window really pushed me because it was the first time I had ever choreographed a dance myself, and I learned how to dance a bunch of different styles and how other people choreographed in their different styles and their strengths."
Schaefer generally choreographs jazz routines with a lyrical twist, but she has also choreographed some hip-hop routines. She hopes to add new styles of dance into the Window show this spring, like broadway or lyrical hip-hop.
"Our group of dancers is going to be mostly the same as last year," Schaefer said. "I think it's going to be a really good show."
Besides participating in Window for the last four years, Schaefer spent most of her life dancing with people outside of Wayland, particularly in Step Above.
The Step Above Dance Company, which is a branch off of Dancers Workshop, is similar to Window because it's a student-led, self-choreographed group. Each student choreographs their own dance. Schaefer has danced at Step Above for the past few years because it gives her the opportunity to dance outside of Window.
"In Step Above, you get to choreograph your own dance, and you can pretty much do whatever you want with it," Schaefer said. "I tend to notice that my dances for Step Above are a lot more my style of dance than the Window ones are."
Schaefer has found that dancing is not only a major part of her everyday life but also affects her life in unexpected ways.
Although Schaefer dances year round, she is a member of the WHS varsity soccer team. Schaefer noted that ballet and dance not only help strengthen her legs, but they also helped her build endurance that she uses in soccer.
Schaefer feels these lessons from dance class have also contributed to her success in school. Due to the short amount of time Schaefer is given to perfect a certain dance moves and routines, her ability to retain information has improved greatly.
"I think it's just a really good stress reliever, no matter what you're doing," Schaefer said. "It takes your mind away from everything else that's going on. In dance you're never wrong, it's just something you always keep improving on."
Schaefer appreciates the creative aspect of dancing. She enjoys choreographing and putting her own style into her dances.
"It's one of the few opportunities where you can make it what you want," Schaefer said.
Schaefer plans to continue dancing in college as an extracurricular and is currently looking at dance groups at the schools she's applying to.
"It's something nice to do. It's not stressful like a sports commitment, but it's still fun, and I want to stick with it," Schaefer said.