The Met Bar: Restaurant Review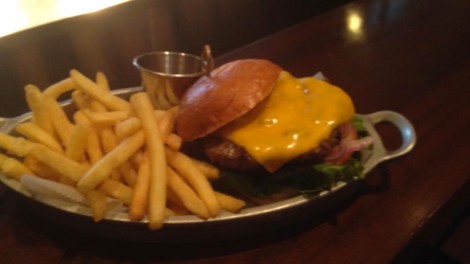 The Met Bar, an upscale hamburger joint, is a popular restaurant located in the Natick Collection. We decided to drop in and have lunch there.
As we walked into The Met Bar, we were immediately met by an upbeat and friendly hostess. She was flexible. Even though we were in a group of seven, and we hadn't made a reservation, she was able to seat our party right away. On the way to our table, our noses were filled with all kinds of delicious aromas. There was also a large bar that had multiple high definition TVs above it, displaying various sports channels.
Our party was seated at a round booth table and immediately met by a smiling waitress. She took our drink orders and brought us menus. While we looked over all of the delicious choices the menu had to offer, our waitress quickly returned, a tray of drink in hand as well as an extra place set for the seventh member of our party. She even brought a new chair so that the seventh member had a more comfortable place to sit.
We then began to order, and our server was very accommodating. She politely answered our questions about the different meals. One member of our party was allergic to gluten, and our server happily helped her pick out a meal that satisfied her needs.
Our food arrived fairly quickly and with no problems. We spared no expense in our order. Several of us ordered appetizers along with our meals, consisting of calamari, fried chicken wings and two Caesar salads. For our main entrees, we ordered several of their signature burgers, including three L.A. burgers (a burger topped with avocado, bacon and various vegetables) and two D.C. burgers (an all-American burger topped with cheese and vegetables). We also ordered two arugula salads (a salad with goat cheese, shaved parmesan and lemon vinaigrette dressing). The burgers were all cooked to perfection and everything tasted delicious.
The restaurant has a modern and comfortable feel to it that creates a great atmosphere to enjoy a meal. It's an upscale restaurant combined with a casual sports bar and TV lounge. All of the customers seemed to be in high spirits and were enjoying their Met Bar dining experience. Overall, it was an enjoyable place to eat.
As we had expected, the food was fairly expensive and cost $165 for our party of seven. Despite the fact that the total bill was pricey, all of us were able to comfortably pay without putting major strains on our wallets. For the average high schooler, we would say that this is a manageably priced meal.
Overall, we give The Met Bar a perfect score of 5/5. The service, from server to chef, was all-around excellent. The atmosphere was great, and the food was superb. We all left the restaurant happy and with comfortably full stomachs. If you love high-end burgers, than we recommend that you try out The Met Bar.