Liz Morgan-DeLossa: From fencing I've learned about discipline and assertiveness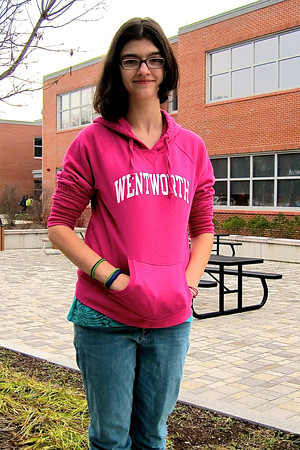 Liz Morgan-DeLossa fenced for the first time when she was in third grade, but only started fencing more seriously in sixth grade. In fencing, there are three weapons: foil, epeé and sabre. She fences women's sabre (in fencing, men and women don't compete against each other.)
"What I like about fencing is that it builds up character and inner strength," Morgan-DeLossa said.
Morgan-DeLossa won the Zeta Club tournament in 2011, placed eighth in Sword in the Snow in 2012 and placed sixth in the Junior Olympic Qualifiers November of 2013. She trains at Zeta Fencing Studio in Natick. Morgan-DeLossa takes classes twice a week, usually on Monday and Wednesday. Each class is one and a half hours. During school vacations, she goes four times a week.
Even though Morgan-DeLossa enjoys competing overall, she dislikes other competitors' attitudes towards losing.
"Not enough studios and clubs teach their members to lose with grace. I've seen people throw temper tantrums on the strips when they lose, and honestly, it's the world's most annoying thing," Morgan-DeLossa said.
Morgan-DeLossa reflected on what she has learned from fencing.
"From fencing I've learned about discipline and assertiveness. Fencing is like physical chess, teaching you to plan out your actions before you start," Morgan-DeLossa said. "When I first joined fencing, I had low self-esteem. Now, my confidence has soared."
She plans on continuing to fence for the next few years and possibly staying involved with the sport as an adult.
"I do see myself fencing throughout high school. I don't know about college though. It depends on where I go because not all universities have fencing programs, and some are more serious than others. I may help referee at tournaments when I'm older, but it all depends on what I choose to do," Morgan-DeLossa said.