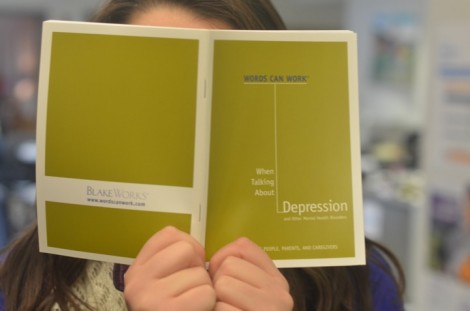 [/caption]
A student sits down at her desk, opens her planner and flips to the marker labeled "today." Cramped handwriting in the small box tells her that she has a paper, two quizzes, a big test and a project all due in the next two days. When she starts the seemingly endless list of new tasks, her heart sinks deeper and deeper until she begins to feel helpless.
According to the 2012 MetroWest Adolescent Health Survey at Wayland High School, reports of stress increase from 25% in grade 9 to 50% in grade twelve, but what happens when students cannot handle this stress?
The New York Times Health Guide suggests that the inability to adapt to stress can be associated with depression or anxiety.
Depression among students can have many effects, including trouble at school, smaller social groups and taking fewer educational opportunities, according to Teen Help, a site that provides information about common problems teenagers face.
Erin Lehmann, a psychology teacher at the WHS, believes that stress can sometimes lead to depression.
"I think when students just have too much to do, they're sacrificing something there, whether it's sacrificing sleep or sacrificing the quality of their work," Lehmann said. "Even if they're maintaining their grades, I just think that that feeling of having constantly too much on your plate and not having a chance to really rest or relax over time can definitely lead to depression."
Under chronic stress, the "stress hormone," cortisol, is repeatedly released. This hormone initiates hyperactivity in the hypothalamic–pituitary–adrenal, or HPA, system in the brain, which then disrupts the balance of chemicals in the brain. When these chemicals are present in normal levels, they help to regulate biological processes like sleep, appetite and mood.
However, low levels of these chemicals have been connected to depression. Depression can occur if the internal response to stress continues for an extended amount of time rather than shutting off and resetting.
There are many ways to treat depression. Common methods are medication, therapy and sometimes simple lifestyle changes.
Guidance counselor Dennis Doherty believes that mental health should be treated and approached the same way as physical health.
"Just like how it's important to exercise, spend time outdoors, eat healthy and take care of our physical well-being, it's of equal importance to take care of our mental health and well-being," Doherty said. "There are various ways in which that can be done, but I think that mental and physical situations both need to be looked at and addressed, and the key is discovering what the source of the stress is. What are the sources of the depression?"
Although parents, school and other factors have been identified as causes of excessive stress, Lehmann believes that sometimes, students are their own worst enemies.
"I think that so many students are so concerned about college. Especially junior and senior year, I see students starting to really load up on honors and AP courses and joining more extracurriculars. They're doing resume building essentially, and they put so much onto their plates that they're causing their own problems sometimes," Lehmann said. "At some point, something's got to give, and I think that stress could easily lead to depression and just a feeling of 'I can't keep up,' 'I'm not happy,' or 'I'm exhausted.'"