Review: Smashburger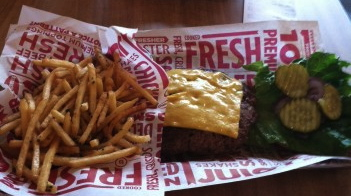 The newest burger joint in the greater Boston area is Smashburger. Smashburger is located in the middle of Sherwood Plaza, next to the Christmas Tree Shop and across Route 9 from the Natick Mall. We had heard some talk that this place was really good and decided to drop by to see if the rumors were true.
It was a cold day, but as soon as we walked in, we could feel the warmth of the grill in the back. Immediately, we could smell the onions cooking on the grill and hear them sizzling.
We ordered our burgers and sat down. Something unique at Smashburger is that they bring the burgers to your table. Typically at other burger joints in the area such as Five Guys, Shake Shack and McDonalds, you have to walk up and get the food yourself.
If you're wondering about where the name of the restaurant comes from, Smashburger makes its burgers by smashing them in the pack with a mallet. The chefs believe that they keep the flavor if they smash the patties themselves.
Our burgers were brought to us open and face up with fries on the side. When we took our first bites, it was clear that the burger was cooked very well. It was incredibly juicy and flavorful.
Unlike Five Guys or other burger places, Smashburger has great fries. Their fries are called Smashfries and are prepared in garlic and rosemary. The end result was absolutely delicious.
One benefit of Smashburger is the price. It is cheaper than both Five Guys and Shake Shack. Overall, we didn't think that Smashburger was as good as Shake Shack, but it was better than Five Guys by a large margin. In addition, we would recommend Smashburger over Shake Shack because it's closer to Wayland.