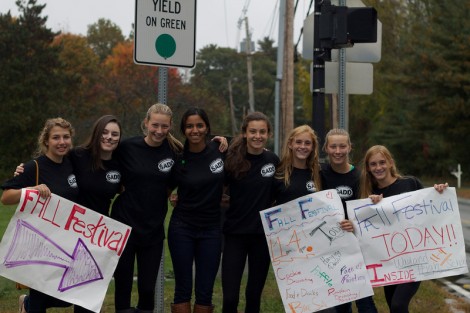 "If the problem is mine, then the solution lies with me as well." This was the motto of Students Against Driving Drunk, or SADD. Following the death of two WHS hockey players in 1981, high school hockey coach Bob Anastas decided to encourage WHS students to question their destructive actions and those of their peers.
SADD, a group originally created to raise awareness of drinking and driving for high school students, was changed to Students Against Destructive Decisions in 1997 to promote awareness of a wider variety of problems that students face today.
Today, SADD groups are found in high schools across the nation. When the club was founded at WHS, only 15 students participated. Today, over 350,000 students participate in SADD all across the country.
"Its main purpose is peer-to-peer education," junior Daly Place, the student leader of WHS's SADD chapter, said.
SADD holds many events throughout the year to achieve this purpose. In October, SADD hosted its second annual Fall Festival, and throughout the past few years, the club has hosted many other events such as Wayglow and last year's foam dance.
"The dances are to create healthy alternatives, and [we have] speakers and other events to educate," Place said.
Later this month SADD will host the annual SADD Shines Day, when leaders of the club are recognized and talk about SADD's effect on the Wayland community. The open event will take place at the WHS auditorium on Wednesday, March 19 at 7 p.m.
SADD meets every Wednesday after school in Spanish teacher Caroline Meliones's room, B214. According to Place, the meetings are different every week. The club writes letters, plans events and hosts speakers to talk about substance abuse.
WHS's SADD club is currently creating a website to display upcoming events and to offer opportunities for members of the community to get involved.
"I believe that [SADD] is more powerful than people believe, and we see the results every other year in the youth risk behavior survey," Place said.
Anyone interested in SADD can learn more about the club, attend one of the meetings, talk to a member, visit its website or check out this video about its history.