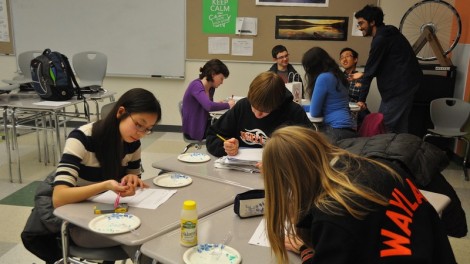 "How could I not?"
That was junior Emma Kerwin's thought when she was debating whether or not to join Math Team. For her the decision was simple and obvious: just join.
WHS's Math Team is a club that focuses on giving students opportunities to practice additional math material after school and to compete with other high school math teams. The club meets every Tuesday after school in room B136 and receives opportunities to compete in the Greater Boston Math League (GBML) meets on a Wednesday once a month. The club has been at WHS for a long time, even before current club advisor, Hannah Marton, joined the WHS math department 12 years ago.
During regular meetings, members tend to separate into table groups and solve packets filled with GBML problems that simulate questions found on the actual tests in the monthly meets. There are no requirements to join the club.
"Anybody who wants to [can join]," Marton said. "Usually the kids who really enjoy doing math are the ones who come, and those kids are usually in honors math, but we have had several kids from college level math classes before."
The club has experienced some recent success this year under the leadership of Kerwin, who is a captain. The team qualified for the state math meet where they tied for fifth place. This qualified them for the New England Math Meet, the first time since 2007.
"[At the meets,] there are five 10-minute rounds that have different kinds of math," Kerwin said. "And there's a team round where everyone on the team can work together."
The club runs successfully from Kerwin and Marton's work contributions.
"I just help plan things to make sure everything runs smoothly when it's time to compete," Kerwin said.
"My job is to get the problems we are going to practice and to teach the material that's in them," Marton said. "So, often I will teach concepts that are new to the students that they either will or will not learn in their math classes."
For many of the members, the team's achievements aren't the best parts of the club — they describe the friendships with other students from different grades and classes who all share a strong passion for math as being even more important.
"I really like having friends in it because everyone is so nice and supportive," Kerwin said.
"[I like] the kids and working on math and really challenging problems with kids who love math," Marton said.