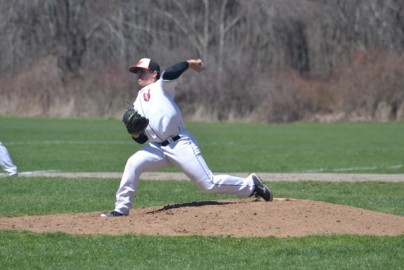 There aren't many freshmen who make varsity teams in their first year at the high school. It is even less likely for a freshman to make the varsity team and immediately contribute. But freshman Blase Cormier took the Wayland High School baseball program by storm this spring.
Cormier had hype coming into high school. Among the baseball players, there were whispers about this eighth grader and whether or not he was as good as everyone said he was. After the first day of tryouts, it was clear that not only did Cormier belong on the varsity team, but that he would be one of its best players.
"Even before tryouts I already knew he was a big boy with a lot of power," starting catcher and teammate junior Zack Aresty said. "But it wasn't until I actually saw him live when I was mesmerized by his raw power and ability. He definitely has the potential to be a great player for years to come."
Cormier trains both during the in-season and the off-season. He lifts weights and goes to a batting cage a few times a week with his hitting coach, always trying to get better.
One of the hardest things for Cormier to deal with is playing with older kids, but he finds ways to deal with the challenge.
"The social aspect of playing on a team with kids older than me is very fun," Cormier said. "The players always make me feel welcome and include me in team events."
Cormier has played all around the country with the purpose of being noticed by college coaches. His greatest baseball memory came from a game he was playing in Delaware.
"My team was losing 2-1, and there was a runner on first base when I stepped up to the plate," Cormier said. "It was a 1-0 count when the pitcher threw a fastball right down the middle of the plate. The next thing I knew I was running around first base as I watched the ball sail over the fence. It was my first home run on a big field."
Even Cormier has set high goals for himself as a baseball player.
"I see myself playing at a high Division I college and eventually being drafted to the MLB," Cormier said. "I picture myself as a hitter like Bryce Harper, and I feel like I can be as good a hitter as he is."
Even with the high goals, Cormier doesn't put pressure on himself when he plays the game. It simply comes naturally to him.
"Sometimes, before and after games, I am a little nervous," Cormier said. "However, when I play in a game, I don't feel any pressure. I don't think during games, I just react."