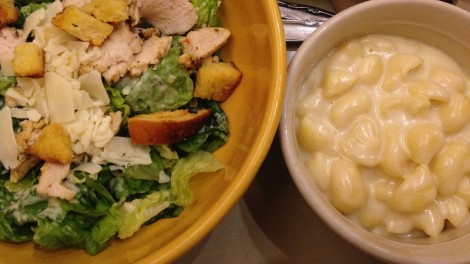 Nestled in a cozy spot of the lucrative Wayland Town Center, Panera Bread lives up to its hype. As you walk in, you're immediately overwhelmed by the menu and its variety of choices. From breakfast to dinner, Panera has you covered.
One breakfast option is the bacon, egg and cheese on ciabatta. Despite the delicious crispy bread, good seasoning and perfectly melted cheese, the bacon and egg were disappointing. The bacon was rubbery and fatty, and the sandwich would have been better if the egg was over easy, but it is hard to screw up a BEC, and the filling sandwich was quite tasty.
Another breakfast item is the spinach and artichoke soufflé. With a fluffy texture like a French croissant, this perfectly portioned dish for one was nicely heated and didn't need any salt or pepper. It was filled with steaming cheeses along with the chopped spinach and artichoke and made for a satisfying yet quick meal.
If you want a tasty treat, do not get the chocolate croissant. It was cold and dense, hard as a brick. What were supposed to be two chocolate pools inside were instead solid sticks, and the actual pastry part tasted more like cold soggy bread than a croissant. I couldn't finish it, it was so bad. A waste of $2.79.
Lunch was much better. If you haven't tried a green smoothie, Panera's B-Green Power Smoothie is a great place to start! Although it is made from spinach and kale, it tastes like banana and is a good healthy option that is very filling.
Among Panera's many salad options is the Fuji Apple Chicken Salad. Its combination of apple chips and walnuts goes well with the chicken, which was perfectly moist. On it is a creamy dressing that soaks all the way through the crisp mixed greens and crumbles of feta cheese. The only bad thing about this salad are the giant chunks of watery tomatoes, which could easily be replaced by grape tomatoes.
Panera offers many different pastas for dinner. Their Basil Pesto Sacchettini is filled with six different cheeses that melt in your mouth, and it is topped with the perfect amount of pesto. However, there was way too much shredded cheese on top, but that can be easily pushed to the side, allowing for you to enjoy the rest of the plate.
Another favorite is their mac and cheese. It comes on the plate steaming hot, and the cheese is delicious. Like a bacon, egg and cheese, mac and cheese is hard to screw up, but the dish could be improved with a topping of breadcrumbs and a more textured pasta.
As for Panera's service system, it is slightly flawed. When Panera isn't using the pagers that buzz when your meal is ready, they simply call out the completed dish. This causes a lot of confusion. My bacon, egg and cheese sandwich took a very long time to make it to my table because someone else took it, mistaking it for their sandwich. (A new one was quickly made for me.)
The atmosphere at Panera is cozy and homey. The booths are spacious and comfortable, and the tables are spaced well apart. Glowing lights hang from the ceiling, and along with the electric fireplace, the room is warm. Instrumental music plays in the background, not too loud, and there is an unhurried feel about the place.
The prices at Panera aren't too bad, and you do get free wifi and drinks from a soda machine! It's a great place to grab a bite to eat after a long practice or early morning breakfast, making it the perfect medium between Mel's and Starbucks, and its convenient location makes it easy to get to from the high school.
Another good thing about Panera is that it offers a lot of healthy options. Calorie counts are displayed on their menu, so you know what you're putting into your body. Plus, you can choose between a whole and half portion (but the half portions are still pretty large), so you don't have tons of leftover food. Also, all their food options are available all day, so you could have breakfast for lunch or even dinner!
Overall, I would give Panera a A-.