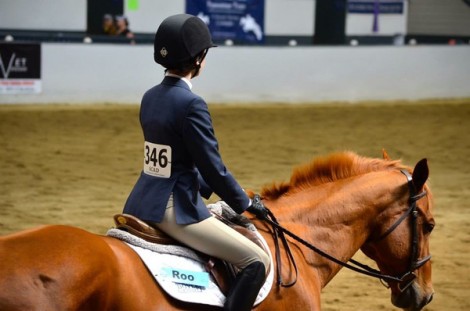 While other sophomores are busy learning how to drive a car, WHS student Zoe Jacobson is busy riding horses and competing in national equestrian competitions.
Jacobson has been horseback riding for seven years, finding the sport through her love of animals.
"When I was young I always liked animals, and my mom read an article in the newspaper about an introduction program to horseback riding, so she signed me up," Jacobson said.
Since then, Jacobson continued to ride and now considers it her "entire life." She spends every day from after school to dinner time riding at the barn with her coach, Lisa Scribner, and other girls on her team, with whom she has become close friends with.
She also works out, going for runs with her friends and sometimes even her mom, to improve her endurance for the physically demanding sport.
"Sometimes it's difficult with homework and stuff because you have hours and hours of training and really hard physical work, and then you come home after and do hours of homework," Jacobson said. "It's kind of taxing on my life, but it's really worth it because it's so rewarding."
Jacobson has proved how rewarding it can be, by winning first place at the Interscholastic Equestrian Association (IEA) Nationals in her division, junior varsity novice, and taking home the blue ribbon.
She explained how nervous she was watching the other riders, describing them as "perfect." She was also worried about the difficult horse she pulled, but in the end it all worked out.
"It was really great," Jacobson said. "My coach and everyone came to hug me, I got pictures with all the important people there, and I won some cool stuff."
Jacobson appreciates her family's support and how they always make the best decisions for her, especially with paying for the expensive sport. Her parents make sure she shares her responsibility, and she is always aware of the costs.
"My parents and I work together to ensure that I'm learning to manage money well and becoming a responsible young adult," Jacobson said.
Her mom comes to a lot of her shows, and her grandparents traveled to Springfield to see her perform at IEA Nationals.
"When the winners' names are announced, they take a video of the stands where your family and coaches are sitting, and there's a video of my grandfather crying. It was so sweet," Jacobson said.
Winning at Nationals was very rewarding for her, and Jacobson knows she definitely wants to continue riding into college.
"[Nationals] was really fun," Jacobson said. "It was really great, and I know I'll continue to improve and try my hardest."