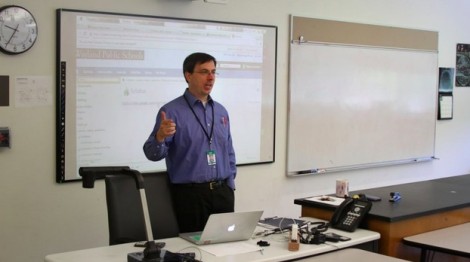 Most teachers and students are used to being in a physical classroom six out of the eight letter days in a rotation. But, over the past three years hybrid courses have appeared where students and teachers are only meeting half of the six days.
"Hybrid of course is a blend of two things, so in my case, it is a blend of traditional classroom learning and online e-learning," astronomy teacher and science department head Kenneth Rideout said. "It was attractive to try because I thought it might be an opportunity to get the best of both worlds."
Rideout started teaching hybrid classes three years ago when former principal Patrick Tutwiler approached the science department to see if any teachers were interested in teaching a hybrid course.
According to Rideout, the transition from a traditional class to a hybrid class was not too difficult because of the nature of the astronomy course.
"I had already concentrated all the material and questions in an online format, and I had decided not to use a traditional textbook because astronomy lends itself to online resources because so much of the information is new and visual," Rideout said. "I was kind of already in the traditional classroom doing virtual stuff, so I thought immediately that astronomy would be a good fit."
Hybrid classes have not been restricted to only science courses. Last year, English teacher Ed DeHoratius began teaching his College English 4 course in a hybrid format. This decision was an attempt to solve an issue he noticed with his senior classes.
"A constant problem is how to engage fourth quarter seniors. I've always been looking for ways to try to engage them, and the blended model grew out of that," said DeHoratius. "The thinking was that if we can give them some of what they want, free time, that would then enable them to give us more of what we wanted: a higher quality of work."
Teachers get to decide when their students have hybrid days. Rideout has his astronomy class have hybrid days on specific letter days, but DeHoratius has hybrid days whenever it is most convenient for the class.
What students are required to do during hybrid classes varies from teacher to teacher. Some teachers, like Rideout, have their students teach themselves new content through specific online resources, whereas like DeHoratius has his students work on projects or conference with him.
"For me, the best benefit is getting to work with more or all of the students one on one. Certainly, I am happy to work with students one on one outside of class, but especially in this College English 4 course, it was getting harder and harder to get students to do that," DeHoratius said. "So for me, the best benefit is having a structure whereby they can't say they're busy; they can't say they've got something else going on because [it's during when they would be] having class."
Similarly to DeHoratius, Rideout liked having the ability to conference with students. However, Rideout also sees value in hybrid classes because it empowers students and helps them understand time management.
"Students like the fact that they get to make the decision on when to do work because they are in control of it and have more discretion on how their day was," Rideout said. "So now I can do things that I never could have done before as a teacher, [like] require students to conference with me one or two times a quarter."
A survey of the astronomy hybrid classes has shown that on a scale of one to five, more than 50% of students said they love the hybrid format of the class (five), and no one said that they hated or disliked the hybrid format of the class (one and two).
According to Rideout, one of the drawbacks of hybrid classes is that it requires that all the students are more disciplined and responsible than they are in regular classes, which is not always the case.
"On the virtual days where the students completely own the learning, you see even a greater difference between those students that are mature enough to set deadlines for themselves and the students that don't set deadlines for themselves and wait until the last second or just forget," Rideout said. "That's unfortunate because you're basically empowering or enabling your strongest students, and you're maybe disempowering and making a weaker learning experience for the students that need your help more."
For DeHoratius, one of the downsides is the difficulty of finding an appropriate balance of time between hybrid days and regular days.
"I've got to make sure that you're justifying the time, whether it's the time I'm not in the classroom or whether it's the time the students aren't in the classroom," DeHoratius said. "That's a balance, one that sometimes I strike well, and sometimes I don't."
Because the workplace has shifted more online, Rideout believes that hybrid courses are a good way to allow students to understand what it is like to work in a more online environment.
"The whole work world is now a lot about people working continuously in their own chunks of time from home; you don't drive to an office and work nine to five," Rideout said. "So this is an educational model that follows that, and in a sense you're training your students for the way the workplace works."