World Languages and Classics department head Mary Brown retiring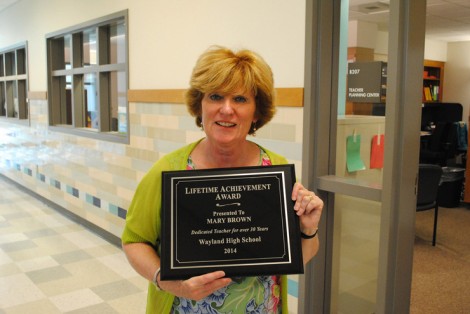 For 28 years, the World Languages and Classics department head Mary Brown has been working at WHS. This year, however, will be her last; Brown will be retiring at the end of the school year.
"I decided three years ago that I would retire," Brown said. "It has been standard [for teachers to announce their retirement three years prior]. You have time to plan. You have time to find a replacement. You get used to the idea."
Prior to working at WHS, Brown taught at two schools: Cardinal Spellman High School in Brockton, Mass. and Clarkstown North Senior High School in New City, N.Y..
Brown first began working as a Spanish teacher at WHS in 1986. Some of her students are still part of the WHS community as adults, including current Spanish teachers Caroline Meliones and Megan Smith, Dean of Students Scott Parseghian and Wayland Police Youth Officer Shane Bowles.
"I've seen them become wonderful adults and achieve their potentials that I always knew that they had," Brown said, smiling while she reflected on her time at WHS.
Brown believes that she will miss her students the most after leaving the school.
"I will miss the students because they keep you very young and very youthful. They're a lot of fun, and it's energized me over my whole professional life," Brown said.
Brown finds that the most enjoyable part of her job is helping students.
"I work with really nice people, and I had some great times with the students. I especially loved my students who were struggling, and then when they got it at the end, they really felt proud of themselves, which made me feel proud of their process."
The reason Brown chose to retire is because she wants to explore other types of teaching while she still feels that she has the energy to do so.
"I have a lot of energy and a lot of passion for my profession, and I want to be able to explore other things within my profession to do," Brown said. "I still want to be involved in education but in a different capacity, and I still feel energized enough to do that. If I wait longer, I may not have the energy."
Brown appreciates how the administration and her colleagues have treated her retirement. She believes that they have treated her "respectfully and honorably."
"They've made it as easy as it can be. It's a very hard thing to retire from something that you like. I'm not leaving because I don't like it. I love it. It's mainly because I'm older," Brown said.
After her retirement, Brown plans to utilize her Spanish-speaking skills in service-type activities. Brown is interested in leading service trips or being involved in student exchange programs. She also has a license that allows her to teach English to foreigners, known as an English Language Learners (ELL) license.
"I want to use my Spanish in a capacity to help people, some type of service," Brown said. "My life has always been like a service. I want to continue that."