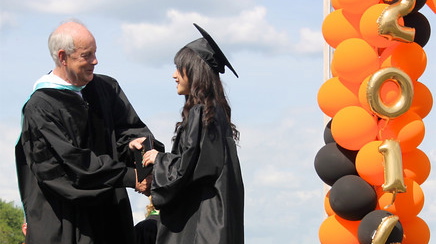 Two of the things that interim principal John Ritchie is best known for are his easygoing and fun nature and his love of music. At the Class of 2014's graduation, he combined those two traits to create a rap instead of the traditional graduation speech.
"I have given graduation speeches for 20 years, and early on I realized that just giving a speech is stupid because nobody's interested," Ritchie said. "At that point kids are just glad to be there, they want to graduate and they're hot."
Because of Ritchie's experience with music, writing the rap was not too difficult. He had used a rap at a previous graduation ceremony and based the Wayland rap, which had new lyrics, on the old one. Ritchie enjoys performing non-traditional routines instead of speeches because he believes graduates are more likely to pay attention and listen to the message in the routine because it's told in a short and entertaining manner.
This wasn't Ritchie's first time veering off from the traditional path of a speech. Ritchie has also performed a song or a comedy routine at other graduations. One comedy routine involved the teachers sitting among the graduates with phones. He asked if anyone had any questions, and the teachers used their phones to call Ritchie.
"These teachers would call me up, and their question would be amplified. They were funny questions about seniors and stuff," Ritchie said. "That was a fun routine."
In another graduation routine at Lincoln-Sudbury Regional High School, Ritchie used the construction of a new high school for a joke.
"The new Lincoln-Sudbury high school construction lasted three years, so it was a big deal," Ritchie said. "I came to that graduation sitting with a guitar on the front of a huge construction machine."
Ritchie has only heard a positive response from these different graduation routines.
"I think people like having something different, so I've heard nothing but compliments."
Wayland High School Graduation
June 8, 2014
I'm feeling like I know you, I'm feeling like I owe you
I feel like I should show you, a curve ball I will throw you
And since I got you trapped here, inside your gown and caps here
I can't preach, or give a speech. Let's try a little rap here.
We all been Warriors here, I shopped inside your store here
You been here for four years, there aren't any years more here
Cause this has been our last year, it's been a very fast year, we leave
Behind our past here. We should make a special flag and
Run it up the mast here. But we don't have a flag,
Though we just got a boulder, that thing was hard to shoulder.
It's like the Rock of Ages, you painted it in stages,
A tradition that in years to come will surely be contagious.
The main thing this school features are amazing teachers—
Without them you would all be sitting in those bleachers
They're why you're graduated—they should be celebrated
They dedicate themselves to making sure you're educated.
Did you know, Senora Brown, just like us is leaving town?
Now you're heading down your own track, diploma in your knapsack
Let's take a little look back; yeah let's get in the slow lane
Take a trip down memory lane, look back through the window pane.
Think of all your friends here, all the time you spent here,
All the things you've learned here, all the awards you've earned here.
I know you played Assassin—I looked out of my window and I seen as you were passing.
I'm glad you showed some caution. With those laundry baskets
Seemed like you were doing your washing.
Senior Show, Class Night, Senior Cruise, last night
Filled with joy, filled with sorrow, everybody on this Earth
Is heading for tomorrow. Remember, in those steamy gowns
That life's the only show in town, It's sometimes like a shark fight
And sometimes dogs that bark bite, some people cannot park right
But it's a place of delight, as long as you're not uptight
Keep your values in sight. It's not money, it's not fame,
It's trying to do what's right. You're only goal's to be you,
Let everybody see you. That simple truth will free you.
Yeah, that is what it's all about
Of that there can be little doubt, now let's hand diplomas out.
So walk up slow, enjoy the show, shake my hand, on demand
Class of Fourteen: looking fine. I hope to catch you down the line.
Goodbye, good luck, and godspeed, my Wayland friends.
That's all I got to say today, so that makes this The End.
J. Ritchie