John Ritchie: It's just been a terrific year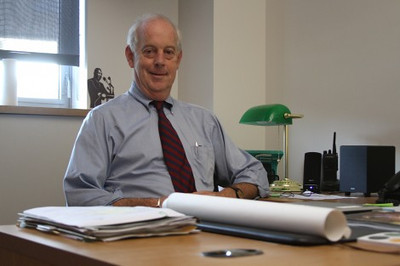 The impending start of the next school year is bringing a significant change to Wayland High School. Interim principal John Ritchie, who has become a familiar face in the hallways of WHS during his year here, is being replaced by current assistant principal Allyson Mizoguchi.
Before becoming interim principal of WHS, Ritchie was the superintendent-principal at Lincoln-Sudbury Regional High School for 13 years until retiring in 2009. Afterwards, he was interim principal at Brookline High School. Last June, after former principal Patrick Tutwiler announced that he was leaving, superintendent Paul Stein contacted Ritchie about becoming interim principal.
"I think people were so surprised, almost shocked when Dr. Tutwiler announced he was leaving because he suddenly got a job, so it was very surprising," Ritchie said. "Whenever that happens in a school, people get really nervous because they think, 'Gosh, the person we knew is gone, who's gonna be here?' So, I think it was reassuring to people to know that I had been a principal before, that I had been superintendent-principal at LS, a lot of people knew me for that, so I wasn't a total stranger."
The fact that he was only going to stay at WHS for one year made the interim principal position different from a regular principal position.
"One of the reasons I like these [interim principal] jobs is because they are sort of stress-free in that whatever's going on here I didn't create it, and whatever the problems are I can't fix them. So, I'm free to sort of help people look at things differently," Ritchie said.
However, Ritchie still had many responsibilities as interim principal.
"[My responsibilities were the] same as just being a principal. I oversee the entire faculty and the administration, run meetings for department heads, run evaluations, communicate with parents, sort of typical principal positions," Ritchie said. "I'm very fortunate that I have Mr. Parseghian and Ms. Mizoguchi as assistant principals as they're just so good."
Ritchie also helped the other members of the administration and the department heads as they made changes to curriculum and other aspects of the school. He helped them figure out how to add new programs without going over the school's budget.
"We're introducing a new program in Mandarin next year, so that's a big change. Not that it was my idea, but we had to all work together. We're significantly expanding our offers in computer science, so that's an addition. We're also expanding some of the resources in our counseling department to help kids deal with mental health issues," Ritchie said, "It's not like those were my ideas, and I made the changes, but we all had to work together to make sure it happened."
Ritchie's experience as principal of WHS was different than other schools where he had been principal, mainly because of the size.
"Wayland is about half the size of both LS and Brookline, and the reason that that makes a difference is that it's small enough that it can really feel like a fairly small family, where you get the feeling you can almost know everybody's name," Ritchie said.
Overall, Ritchie views his experience at WHS positively.
"I'm kind of used to this kind of environment, but every school is different. It's just been a terrific year, and the kids are amazingly friendly, and the faculty is talented," Ritchie said. "No gigantic problems that we've had to confront. It's been wonderful."