School Committee holds Long Range Planning Summit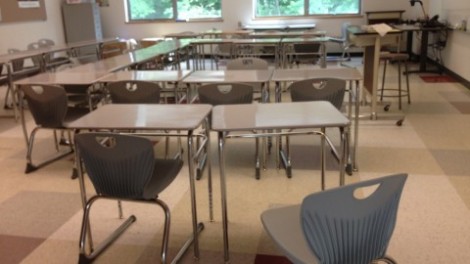 [/caption]
On Sept. 21, the School Committee Long Range Planning Summit was held at WHS. This two-hour-long event was attended by members of the school committee along with parents, teachers and other members of the Wayland community.
The purpose of this meeting was to allow members of community to give input to the school committee as they make plans for the schools' budgets and curriculums for the next few years. These plans are being made in conjunction with a town-wide, long-range planning project. This planning project was initiated by the Town Finance Committee.
"[The goal is] to begin to develop areas that we can improve upon in the schools, which will help form a long-range, strategic plan for the schools. [The plan] will have budgetary impacts probably, maybe some new course offerings, maybe some renewed emphasis on different areas of the curriculum," assistant superintendent Brad Crozier said.
The meeting started off with an introduction from superintendent Paul Stein in the lecture hall. In this introduction, he spoke about the format of meeting and the breakout sessions. He also spoke about the goals of the meeting and the purpose of long-range planning.
"Schools are about peoples' hopes," Stein said in the introduction. "Wayland prides itself, historically, on both being bold and realistic."
The attendees then split up to attend the breakout sessions. Each attendee could choose to attend one of the five breakout sessions. The breakout sessions were: Raising the Bar (a discussion about personalizing instruction and addressing the needs of average students), Enhancing the Curriculum (a discussion about possible additions to the curriculum), Promoting Health and Wellness and Employing Technology and Exploring Early Childhood Education (a discussion about early childhood programs and full day kindergarten). During the breakout sessions, attendees engaged in discussions where they noted issues and came up with solutions.
Since attendees could only attend one breakout session, they were asked to send in any input they had for the other topics to the school committee. Many attendees thought this format was effective.
"I think that the format was effective in that you could really delve into a topic deeply, but one of the things it didn't allow for was for people to go to more than one topic, but hopefully, we took care of that by telling people to send in their ideas to us ahead of time," school committee member Jeanne Downs said.
"I thought [the format of the meeting] was fairly typical and well thought out and well planned," Joanne Schmidt, the library media specialist at WHS, said.
After the breakout sessions, there was another group session which concluded the meeting.
"We got to recap everything that was done in the breakout sessions, so all the information was shared," Schmidt said.
The next step is for the school committee to take the input they got from the community and start to work on the long range plan.
"I think that some important things that have come up, some areas that people really feel passionate about," Downs said. "We took everything down in each session, and we're going to report back out, as a big group. We'll take all that information, from each session, and we'll discuss it in school committee."