Clara Lagor: It's really easy once you get into it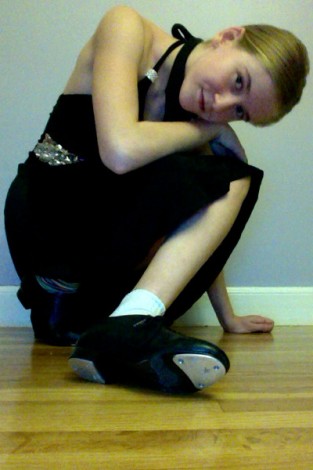 [/caption]
When most people think of dancing, they probably think about ballerinas or break dancers; however, for sophomore Clara Lagor, dancing means tap dancing.
Lagor was inspired to start tap dancing four years ago while she was living in Westchester New York and went to the Broadway Training Center there.
"I had this acting class [at Broadway Training Center] that I went to every day," Lagor said. "Right before that class, I would always see the tap dancers. I would always wonder how they would do it, and eventually, I asked my mom if I could try it out. It just seemed like a cool thing to do, and I have been tap dancing ever since."
Lagor said that tap dancing is different from other types of dance.
"It's a unique form of dance that can't really be matched by any other. It has a different structure and different posture, especially compared to ballet. It's dancing for music and for expression," Lagor said.
Tap dancers can dance to different types of music, such as jazz and swing, according to Lagor.
"I especially enjoy doing tap dance routines to electro-swing when I can," Lagor said.
Currently, she takes weekly private tap dance lessons with Sylvia, her younger sister. Lagor also performs regularly in front of audiences. She takes part in a performance almost yearly.
In the future, Lagor thinks she could possibly tap dance professionally.
"I want to keep tap dancing, maybe until I go professional," Lagor said.
Lagor explained that it takes a lot of practice before it is possible for a dancer to start dancing professionally.
"You have to work up to [dancing professionally]. You have to take lessons, and then once you have skill and technique, you apply to gigs and jobs," Lagor said.
According to Lagor, professional tap dancers can perform as part of an acting job at restaurants or at special tap dance events.
However, there are challenges involved in learning how to tap dance.
"Balancing which foot you put your weight on [is difficult]. For example, if you do a shuffle on the right foot, you would have to put your weight on the left foot," Lagor said. "With certain steps, it becomes harder to shift your weight since you're constantly switching feet and keeping centered."
Despite the challenges, Lagor said that she would recommend tap dance to anyone who was interested.
"I would definitely [recommend it]. It's really fun. It's loose. It's not as uptight and as formal as ballet. You don't have to be flexible for it, and it's really easy once you get into it."