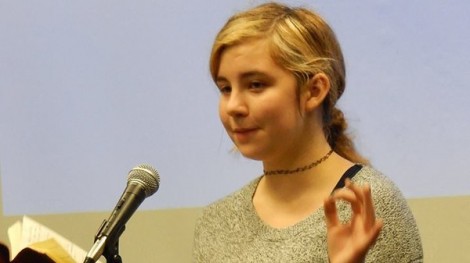 When most people think about poetry in high school, they probably imagine sitting in English class highlighting and analyzing an assigned reading. However, to junior Libby Camp, it's an emotional release followed by an exhilarating performance that's engaging to her audience.
"Stereotypical written poetry is very refined and organized, and kind of strict, whereas slam is a form of performance art," Camp said.
Although Camp has enjoyed writing songs and poetry her whole life, her interest in spoken word poetry sparked after Wayland's Winter Week poetry slam her freshman year. After attending the slam, she joined the school's Slam Poetry Club. She was mesmerized by the power the poets put into so few words.
Camp usually finds inspiration to write about in her own life, but on occasion, she likes to write about something she has never experienced. She draws her inspiration from intense emotion, happy or sad, that she tends to internalize.
"When I write, it's like a release from all of my thoughts pushing me to the breaking point," Camp said.
Since Camp joined the Wayland Slam Poetry Team, she has participated in three poetry slams: a youth poetry slam in Brookline, the Massachusetts Louder Than a Bomb slam and a youth poetry slam at the Framingham Public Library. Camp won the slam in Framingham.
"Winning the slam at Framingham was amazing," Camp said. "It was probably the happiest I've felt in a long while, just knowing that my poems were appreciated and received well by the audience. It was exhilarating, and I can't wait to try to win another one."
The club advisors, English teachers Janet Karman and Kelsey Pitcairn, as well as guest coach and slam poet Sam Libby, helped prepare Camp for performing live, particularly for the largest competition, Louder Than A Bomb. They guided Camp's writing and speaking until it was ready for performance.
While Camp hopes to continue performing slam poetry for her whole life, she does not see a future career as a professional slam poet. She worries performing professionally and for a living could take the fun out of writing, which has become such an important, educational and cathartic part of her life.
"[Through slam poetry,] I've learned to share my experiences, have confidence in what I have to say, and to be able to take criticism."