A look at the demand to take advanced classes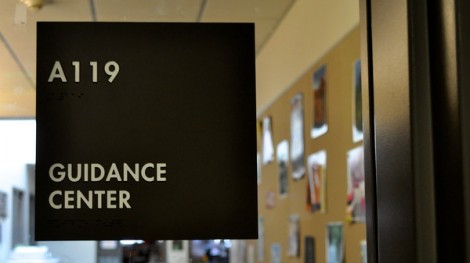 Should I take the college course or the honors class? Or should I take the AP class? Starting freshman year, these are questions high schoolers ask themselves when deciding what classes to take. It's not a simple answer for some, as the pressure to take harder classes weighs heavy on their shoulders.
Freshman Jaylen Wang believes part of the pressure comes from peers. Students can be pushed or can push themselves to follow their classmates in taking harder courses.
"It's definitely subtle," Wang said. "They say things like, 'Oh, you should take the same class as me, so we can be in the same classes.'"
Junior Emily Barnard also sees peer pressure as a reason for students to worry about their performance in challenging classes.
"No one wants to be the kid in the honors class with the worst grade," Barnard said. "It's just so hard when everyone understands something that you don't, or they're good at something while you're not."
Wang thinks the pressure to take high-level classes comes from parents as well.
"Your parents definitely want you to do well, but sometimes parents can be a little too pressuring [for you] to go outside of your comfort zone," Wang said.
Junior Emily Barnard doesn't feel like she gets a lot of pressure from her parents. Instead, she sees it originating from her own expectations to be successful and do well. She senses these expectations are heightened with the ambitious atmosphere within Wayland High School.
"I think Wayland is just such a great school system, and there are obviously a lot of smart people who go here, so there's just a higher expectation here than there is at other schools," Barnard said.
Guidance counselor Benjamin Buffa recognizes how competition can affect course selection, especially with upperclassmen thinking about college.
"The college admissions process has become more and more competitive over the years," Buffa said. "Both parents and students feel as though they have to maximize and sometimes overload their course schedules in order to have a shot at making it into one of the elite colleges."
Barnard keeps college in mind, knowing that it "all kind of starts from here," but as time goes by and the pressure continues, she notices how the load of taking all honors or AP classes can get more difficult to handle.
"It's tough sometimes, especially because every year it gets harder and harder to keep up with academics," Barnard said. "Now that it's junior year, we have the SATs and ACT on top."
Buffa also acknowledges the fine line between the benefits and harm that can come from challenging yourself. He doesn't want students to unreasonably burden themselves because it could cause negative impacts. He also stresses that individual class schedules are specifically tailored for each student's unique strengths, weaknesses, needs and capacity.
"I think taking all AP and honors classes at WHS is an extremely impressive thing to do, provided that the student is able to do well, maintain a well-rounded agenda and still have time for friends and family," Buffa said.
Barnard believes that course selection should be made depending on what an individual can handle, how much time they're willing to invest in studying and how other aspects of their life will be affected. Barnard maintains that if those ideas are kept in mind, then a healthy balance can definitely be achieved.
"I think you can find the right balance of classes for your own individual person, so you're challenging yourself, but it's also manageable," Barnard said.
Buffa says that students should reconsider their course load when the academic demands put a strain on their personal life, "Those who are irritable and anxious throughout most of the school day, and who are falling out with friends and not spending time with family because of their excessive academic demands–that's when I think something needs to give."
"Keep things in balance," Buffa said. "Challenge yourself for sure, but if you find that other parts of your life are starting to suffer as a result, seriously consider switching it up."