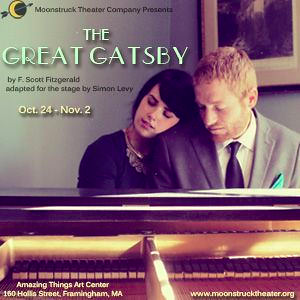 Jared Walsh is a man of many talents. Not only is Walsh a teaching assistant at WHS, but he also is the freshman baseball coach and an actor. He has performed in multiple plays and productions around the Boston area and finds it very rewarding to be part of a show with others.
"There's a certain satisfaction in working toward something and working with a group of people and getting an emotional output from the audience," Walsh said. "You're working towards a singular goal, and the outcome is what you expect or better."
Walsh started acting his sophomore year of high school when he performed in the musical "Carousel." In that first musical, Walsh discovered how much he liked acting.
"I was just asked to join the show, and it was a pretty cool experience," Walsh said. "After that, I just kept auditioning for shows, and I liked it a lot because I like being on stage. It kind of snowballed from there."
Currently, Walsh is playing the role of Jay Gatsby in Moonstruck Theater Company's "The Great Gatsby." However, Walsh had only had a few weeks to prepare for this role.
"I only had two weeks of rehearsal. The kid who was playing Gatsby was asked to not be in the show anymore," Walsh said. "I got a Facebook message just asking me if I wanted to be in the show in two weeks. It's pretty wild."
Walsh has plenty of things to keep him busy. The combination of teaching and acting is a lot for an agenda.
"It's a lot. I've always been this way though," Walsh said. "I've always been able to balance my responsibilities. If it got to be too much, I was aware of that, and I dropped something off if need be."
While some people might not be fond of such a full schedule, Walsh prefers the constant activity.
"I wouldn't have it any other way. I would much rather be busy than less busy, because being bored is stupid," Walsh said.