Boys' soccer faces Tewksbury in semi-finals
Elena Erdekian
November 12, 2014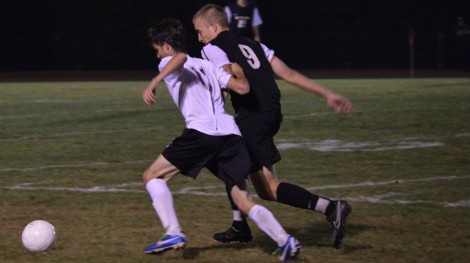 [/caption]
Today, the Wayland boys' soccer team will face Tewksbury in the North Sectional semi-finals. Coming off of their win against Pentucket, the Warriors hope to advance yet another round in the tournament with a win this week. Tewksbury is the No. 2 seed in the bracket and has had a strong season, using their defensive ability to keep games low scoring.
"Our goal is to try to put them under a lot of pressure, so that we can open up scoring opportunities," head coach David Gavron said.
Although the Warriors would love to walk off the field with a win Wednesday night, Gavron said that the outcome of this game won't determine if the team deems their season a successful one.
"Our goals coming into this season was to qualify for the state tournament, which we did, and to win the DCL title, which we won a piece of. Our last goal is to win a state title," Gavron said. "We may not reach all of our goals, but the season is not going to be predicated on whether or not we win one particular game."
The Warriors face Tewksbury at the Manning Bowl in Lynn, Mass. at 5 p.m. tonight.