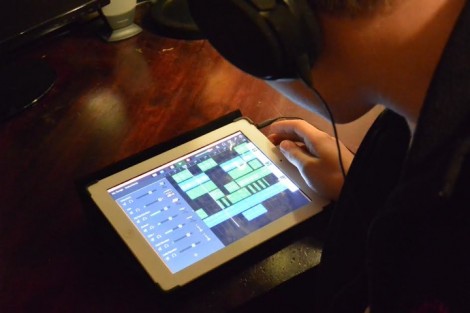 Coming from a family that runs a business that sells and repairs musical instruments, sophomore Hunter Leonard's life was full of music from the beginning.
His father, who has played saxophone, clarinet and flute for the Boston Symphony Orchestra, taught him a few scales and notes on the trumpet when he was five.
"Ever since my dad showed me a trumpet when I was young, I was really interested in playing one," Leonard said.
He currently plays trumpet in Wayland High School's Honors Wind Ensemble and Honors Jazz Ensemble, but that is not his only musical ability. Leonard writes original music, which he describes as "dubstep, drumstep and more relaxing music like chill and chill trap." He creates songs using an iPad.
"I started writing actual music back in seventh grade ever since I saved up enough money for my iPad, and since then I've started developing my skills," Leonard said. "I've always wanted to write my own music for a long time, but I never had the tools I wanted until halfway through middle school."
Leonard uses two apps on his iPad to make songs: GarageBand and Audiobus, which he called "an app that saved my music career." Audiobus is an app which allows users to import sounds from other apps into GarageBand.
The process of creation doesn't always move at a steady pace, and Leonard says writing a song could take him a few hours to a few weeks.
"[It depends on] if I feel that a song's just not ready or if the idea is just not going to work very well or if it's just not going to sound good in the long run," Leonard said.
He takes inspiration for his music from a wide variety of artists, including XXYYXX and Hippie Sabotage. He hears many of the songs he's influenced by when he's listening to radio stations on Pandora, the music streaming service, which plays various songs based on the style of the station's original artist.
Leonard posts his songs on Soundcloud under the username Derpload. When he first began writing music, he called himself DJ Leon, but when he realized that the name had already been claimed, he decided to switch.
"[Derpload] came from a comic that I haven't been able to find anymore, but a comic that my friend showed me back in middle school that I thought was really funny. I thought the name had that certain sound to it," Leonard said.
The song he is most proud of writing is called "Flying", which he wrote last year.
"I feel like everything just connected for that one song," Leonard said.
While he isn't planning to pursue a career in music, Leonard is interested in continuing to write songs as a hobby.
"I'd love it to be a side project throughout the rest of my life," Leonard said.
Leonard's music can be bought here, and Leonard donates the money from his music sales to the Make-A-Wish Foundation.