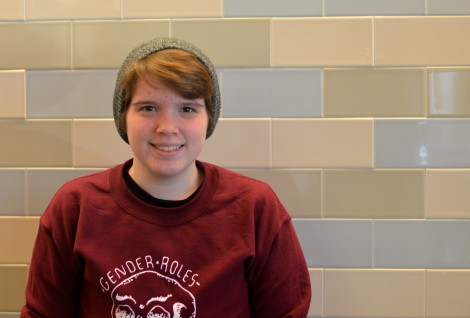 In past Winter Weeks, the organization Parents, Families and Friends of Lesbians and Gays (PFLAG) has come to speak to Wayland High School sophomores about lesbian, gay, bisexual, transgender and queer (LGBTQ) youth. After last year's event, senior Declan Nolan talked to one of the speakers, which sparked his interest in speaking about his experiences as an LGBTQ youth.
After going to a Gay-Straight Alliance leadership summit this summer, Nolan met with other PFLAG speakers and found out how he could become involved. He's now spoken at about five PFLAG events, where he and other speakers tell their stories and answer questions.
"It's not as much of a speech as just telling my story and what I've gone through as a transgender teen and giving some advice," Nolan said. "I did practice a lot the first time I spoke because it was terrifying, but after a while you know what you're going to say, and it's your life, so you're just speaking about what you've been through."
As Nolan has done more events, he says that he has gotten more comfortable, but still feels nervous, especially in front of other teenagers.
"I'm the most nervous when I'm talking to other teens because I'm afraid they're going to judge me more. I've also talked at Boston College to a class of social workers, so that was really relaxed, and they were all really understanding," Nolan said. "But teenagers are very intimidating, and you're scared they're going to judge you more."
Nolan's favorite part of sharing his experiences is answering the questions because he enjoys being able to help LGBTQ teenagers find places where they can find support and be comfortable. He also likes being able to educate people about LGBTQ youth problems and how they can find out more.
"The best question is really when anyone asks how to be involved in [helping LGBTQ youth] and wants to learn more, especially when allies want to support LGBTQ youth, friends and family. Anyone who really wants to support the community is really meaningful," Nolan said.
However, answering questions can become uncomfortable when people ask Nolan certain personal questions. He responds to those questions by explaining why they are too personal to answer.
Even with some occasional uncomfortable moments, Nolan believes that people are learning and reacting positively to people sharing their experiences. He thinks that having questions after sharing experiences is helpful because it can help clear up peoples' confusion.
"I've had people who came up to me afterward and thank me for speaking, and that really meant a lot to me because I know when PFLAG came and talked to our school last year and the year before that, it meant so much to me," Nolan said. "It really inspires me that I'm doing that for other people, and it makes me really proud of what I'm doing."
Nolan hopes that speaking with PFLAG will spread the message of being open to other's identities and being yourself. He thinks that education on LGBTQ identities will help LGBTQ youths go through their own experiences.
For anyone who is interested in supporting LGBTQ youths or getting support for yourself, Nolan recommends coming to the WHS Alliance meetings after school on Mondays or going to WAGLY , a group for LGBTQ and allied high school youths that meets in Wellesley every Monday, where Nolan is a peer leader. Specifically for transgender youth, there is an additional group called UMBRELLA that meets twice a month.