Winter sports preview
Hang on for a minute...we're trying to find some more stories you might like.
Boys' Basketball
The boys' varsity basketball team will have a key ingredient to winning games that it didn't have last year: experience. The team will feature nine returning players, most notably seniors Andy Carmichael and Andrew Straube, as well as junior Jonathan Eng. The team will attempt to improve on last year's 9-9 finish by reaching their goals of winning the DCL small title and another tournament berth.
Players to watch: Andy Carmichael (senior), Andrew Straube (senior), and Jonathan Eng (junior)
Girls' Basketball
After not having the season they hoped for last winter, the team hopes to make the state tournament and win the DCL Small title this year.
Players to watch: Daly Place (senior), Bronwyn Davies (junior) and Darby Leid (freshman)
Nordic Skiing
With many new skiers this year, the cross-country ski team is hoping to make up for its lack of experience with a larger team.
Players to watch: Audrey Zizza (senior), Eli Bucher (senior) and Paul Longnecker (senior)
Alpine Skiing
After finishing third in their league last year, the alpine ski team hopes to make a push for the state championship. The team will turn to its returning members, two of whom made states last winter.
Players to watch: Will Regan (senior), Aaron Goldstein (senior) and Ben Slater (junior)
Wrestling
Last year, the wrestling team went undefeated with a 23-0-1 record but came up just short of a state title. The team is dedicated to building off last year's performance and winning the individual state tournament, in which they finished second last year. They will rely on strong senior leadership to accomplish their goals.
Players to watch: Cole Elias (senior), Jared Thompson (senior) and Michael Connell (junior)
Boys' Hockey
Coming off a year in which the team went 15-6-3 and won the North Sectional title, Wayland's boys' hockey team hopes to have another successful season. According to Head Coach Rian Murray, the team will be led by senior captains Nick Morgan and Lucas Bastarache, who are both closing in on 100 career points.
Players to watch: Nick Morgan (senior), Lucas Bastarache (senior), Nick Greenwood (senior) and Scott Carvalho (senior)
Girls' Hockey
After losing in the first round of the state tournament last year, the team is counting on its returning players to improve.
Players to watch: Gianna Fargnoli (senior)
Indoor Track
With the addition of two new assistant coaches, Michael Hopps and Matt Daniels, the team is hoping to improve and win some meets.
Players to watch: Robert Jones (senior), Margot Turner (senior) and Sheryl Chin (sophomore)
Boys' Swimming
With few experienced upperclassmen, the boys swimming and diving teams are going to have to count on the newcomers to pull their weight.
Diver to watch: Alex Chused (senior)
Swimmer to watch: Charlie Nuss (senior) and Drew Donovan (senior)
Girls' Swimming
After losing many seniors, the girls teams are going to have tough competition against Weston. However, they are looking to win states and continue their usual success.
Diver to watch: Elizabeth Miller (junior)
Swimmer to watch: Molly Pierce (senior)

[/caption]
About the Writer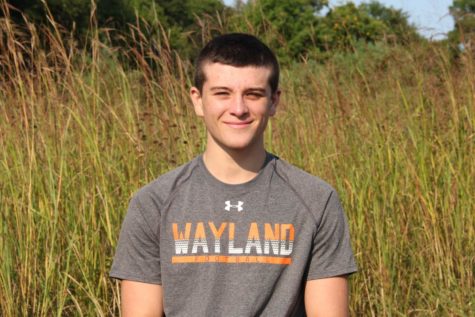 Duncan Stephenson, Editor-In-Chief
Duncan Stephenson is a senior at Wayland High School. He is one of three editor-in-chiefs of WSPN. This is his fourth year writing for the publication....