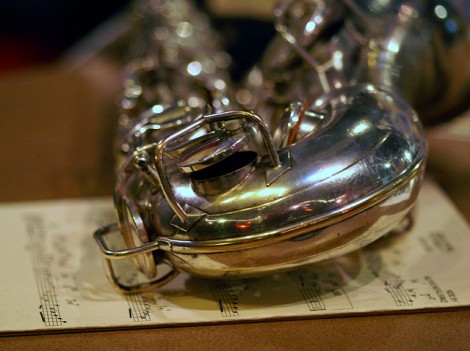 He sat in a practice room, completely focused on playing "Hello Dolly." A steady hum of music flowed through the door. He was sitting down on the only piece of furniture in the room, a blue chair held up by four shiny metal legs.
In front of him was a matte black music stand holding crumpled paper with rows and rows of melodic notes. The mouthpiece of the polished gold saxophone was positioned between his lips. With a serious look on his face, his fingers flew like a falcon searching for food — he knew exactly where to place each finger to create the perfect harmony. The circular buttons were pushed in and out in a meticulous pattern.
As he played, his lungs grew and then shrunk again as he searched for the air to continue playing. His body took over as he rhythmically tapped his foot to the beat and swayed back and forth to the tune.
The saxophone wasn't always sophomore Jakob Warner's thing.
"In third grade I tried to play the bass because I thought it would be fun, but it wasn't. So then in fourth grade I started playing the saxophone. I have been playing ever since," Warner said. "I started to play jazz in seventh grade, but I like playing modern music too."
Warner has curly brown hair and eyes that sparkle as he scans over the endless sheets of music. Throughout the song, his broad shoulders rise and fall from under his red and navy blue flannel shirt. Every once in a while, he closes his eyes, and his face falls still. Jakob doesn't stop, playing straight through the lunch block.
Warner enjoys playing the saxophone, but he also looks up to others who thrive on music as well.
"My favorite musicians are Louis Armstrong and Duke Ellington," Warner said. "For my fifth grade biography project I was Louis Armstrong. I dressed in an old tux and borrowed my friend's cornet."
The boy with the curly hair continued to play through "Hello Dolly," timing every body motion to hit the necessary notes. After a final run-through of the song, he set the saxophone down in the velvet lined black case and a rewarding smile immediately spread from one ear to the other.
"I don't know what it is, but playing some tunes just does something to me," Warner said. "It takes me to a different place."