Athina Apazidis: There is absolutely no limit to your creativity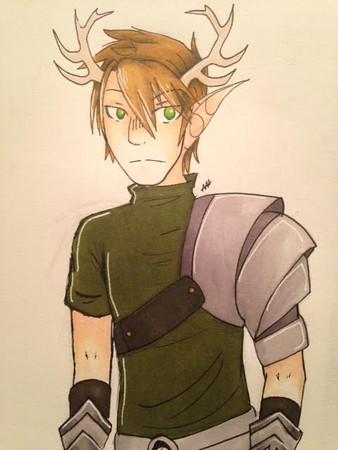 The pencil glides across the paper as she sketches a new image during a free period. After a couple of minutes, a clear figure starts to take shape. Different students have different ways of relaxing. For sophomore Athina Apazidis, drawing is the best way to relax.
Apazidis was inspired early on to start drawing, but didn't really start drawing seriously until middle school.
"I didn't really get serious about it until I reached eighth [grade], when I became good friends with Anna [Marobella] and she inspired me to work on my skills," Apazidis said.
She tries to spend an hour or more drawing each day. Her style varies, as she uses different materials and subjects.
"My drawing varies from an anime-style to Disney, and even realistic once in awhile if I feel like attempting it," she said. "For realistic, however, I mostly stick to animals. I usually draw traditionally, with pencils, pens and markers. But every once in awhile, I'll draw something digitally."
Apazidis' inspiration sometimes comes from unusual places.
"My drawings are usually inspired by dreams I've had, or when I just surf the web and see something interesting," she said. "The thing I love most about drawing is that there is absolutely no limit to your creativity, and the fact that you can actually bring something that you thought up in your head to life on paper is amazing."
While Apazidis enjoys drawing, there are some aspects that challenge her.
"The thing I like least about drawing has to be anatomy of both the human body and animal. Just as soon as you think you've got it right, you realize the next day that something's messed up," she said.
While does not see herself drawing as a career, she would like to continue to draw after high school.
"I do want to continue drawing after high school, but I've never seen it as a profession that I'd like to have in the future. Drawing is merely a fun way to spend my extra time, and it both helps me relax and unwind," Apazidis said. "I believe that if I did try to pursue it as a career, it would just stress me out and ruin the fun creativity that I've found while drawing"