WW '15: Astrophysicist Dr. Giovanni Fazio speaks about infrared radiation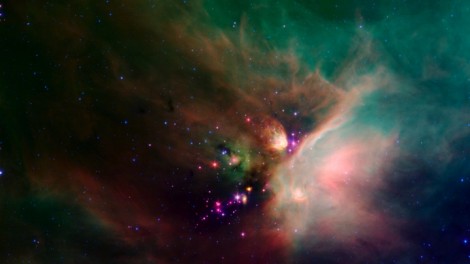 Astrophysicist Dr. Giovanni Fazio of the Harvard-Smithsonian Center spoke at Wayland High School this Thursday as part of Winter Week. He discussed infrared radiation and his involvement with the design and construction of the Spitzer telescope, which captures infrared images of celestial bodies in space.
Fazio explained that infrared radiation has a longer wavelength than visible light and detects lower temperatures of about 100 Kelvin (K) compared to visible light's 1000K. Most objects in space are less than 1000K and cannot be seen in the visible light spectrum. Because of this, NASA uses infrared radiation to find bodies in space. Colors are assigned to different wavelengths of light to create images of the distant bodies.
The radiation can also be used to detect certain atoms and molecules, which can possibly indicate life elsewhere in the universe.
The Spitzer telescope was launched in 2003 and is currently orbiting the Sun. Although Fazio was officially assigned to the project in 1984, the idea of it was being explored earlier.
"Ten years prior to [1984] we were studying it," Fazio said. "It was a group of astronomers who were studying what we would like to see in space, and then in 1984, NASA proposed the construction of [the telescope]."
The telescope contains a beryllium mirror, which has a diameter of 85 centimeters and is cooled using liquid helium. It also contains other instruments, including a power supply, an antenna and location trackers.
Fazio was responsible for the infrared array camera, which detects infrared light. It measures 256 by 256 pixels, and instead of having one detector array, like most cameras do, it has four arrays, one for each wavelength. This allows it to capture more accurate images. It required a lot of manpower, and was worked on by over 200 people at one point.
The Spitzer telescope was launched warm, cooling off as it had exited the atmosphere. NASA continues to use this approach because it cuts the required cost and weight of the telescope.
When the Spitzer telescope was finally launched, Fazio was very nervous. "You had your whole life's work, almost, invested in that telescope, and you just had to pray that that rocket was going to work," Fazio said "And fortunately, it did."
Shortly after the Spitzer telescope was launched, scientists, using the telescope, discovered dips in radiation of a body. These dips indicated objects that were passing behind stars repeatedly, which were then found to be exoplanets, planets that orbit other stars. NASA started a new program to collect data on these using the telescope. Using a spectrometer, scientists have found evidence of water vapor on one of these planets.
Miss an event from Winter Week 2015? WSPN's got it covered.