Students win Scholastic art awards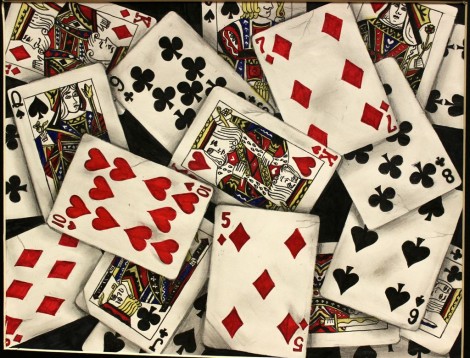 This year, 18 students won a total of 32 Massachusetts Regional Scholastic Art & Writing awards. This is the largest number of students to have won awards from WHS in a single year.
"We had a great showing in 2013, but our numbers improved this year. Many more individual students were recognized," art teacher Janet Armentano said.
To enter the competition, students did not have to be part of an art class. All public, private and homeschooled students are eligible for the competition. While students at the middle school compete against students in their own grade, high school students compete against others in grades 9 to 12. Students are allowed to enter more than one piece of artwork.
There are three possible rewards students can receive: a Gold Key, Silver Key or an honorable mention. Art pieces deemed to be in the top 3 percent are awarded Gold Keys, while those in the next two increments of 3 percent are awarded Silver Keys and honorable mentions, respectively. Works that receive a Gold Key move on to be judged nationally.
"We have had two national winners in the last two years," Armentano said. "Jameson Hunt won in 2012 and Calvin Laituri won a national award in 2013."
Students at WHS don't make art specifically for this competition. Usually, the submitted work is art made for a class assignment. Students also make art to submit as part of their college portfolio for an art major or a college application supplement.
"I try to encourage students to find their own voice and to put their personality into their art," Armentano said. "For example, many of the self-portraits they made won awards, but that is partly because students used different media and techniques to develop their work."
Winners:
Sierra Blom (Silver Key)
Dasha Bobrova (Gold Key, Silver Key, Honorable Mention)
Nia Coufos (Honorable Mention)
Mike DiBona (Gold Key, Silver Key, Honorable Mention)
Zac Hays (Honorable Mention)
Annice Kim (Honorable Mention, Silver Key)
Calvin Laituri (Gold Key, 4 Silver Keys, Honorable Mention)
Abby McCarthy (Honorable Mention)
Sheeva Moradi (Honorable Mention)
Latoya Nurse (Silver Key)
Angela Park (Gold Key, Silver Key)
Daly Place (2 Honorable Mentions)
Kira Ryter (Silver Key)
Larissa Sehringer (Honorable Mention)
Eric Snow (Honorable Mention)
Jack Stevenson (Honorable Mention)
Olivia Stitham (Silver Key)
Olivia Zhao (3 Silver Keys)