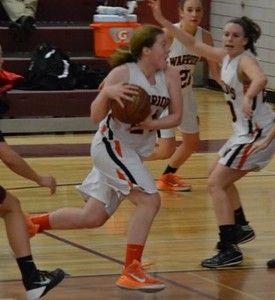 There are plenty of students at Wayland High School who decide to try out for winter sports as freshmen, but it's quite rare that they'll make a varsity team in their first year. However, sophomore Ellery Kiefer did just that last season.
"At first I was the only freshman who made varsity, but then someone couldn't make the time commitment and another freshman got pulled up," Kiefer said. "It was nice for me because I had a buddy,"
Kiefer, who now just finished her second basketball season at WHS, has been playing basketball most of her life.
"[I've played basketball] since I could walk. I played in this little league and there were just a bunch of little kids learning to play basketball," Kiefer said.
This season, the team did better than it has in past years, and it finished with a record of 14-6.
"This year I've started most of the games," Kiefer said. "[In my best games] I really shut down on defense, and I got some good rebounds on offense and put them back up."
Kiefer also plays on the WHS soccer team, and she also plays on basketball and soccer teams outside of school. She says there is no real off season for her since she plays basketball year-round.
"The basketball team is a big commitment, and we travel a lot as a team. We've gone to DC and to North Carolina. The soccer team, we don't do as much traveling, just a lot of games, practices and tournaments every weekend," Kiefer said. "I'm always going out and shooting around during summer, spring and winter. Whatever time I have I'm shooting hoops."
Sports run in Kiefer's family. Her father, Tom Kiefer, won a silver medal in rowing at the 1984 summer Olympics, and her mother, Cecily Kiefer, has also rowed at an international level.
"I feel like they have a big influence on me and how I've gotten to where I am today," Kiefer said. "My brothers and sisters are also very competitive, and we're just a competitive sports oriented family."
In the future, Kiefer wants to play college basketball and then become a coach.
"It's just so much fun, and it's a lifestyle that I love," Keifer said.