Students and faculty react to posters for raising awareness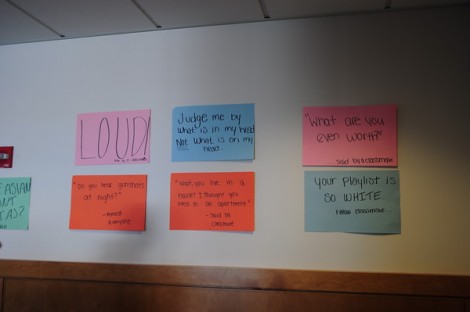 A group of students put up signs outside the Media Center today to raise awareness about stereotypes.
"The message that we mainly want to get across is that people have so many stereotypes and there is so much judgment," sophomore McKenzi Thompson said. "We just want every voice to be heard and to allow everyone to be different and accepted."
Students from all different backgrounds, from race to sexuality, came together to make the signs. Quotes on the signs are comments that students have actually heard directed toward them.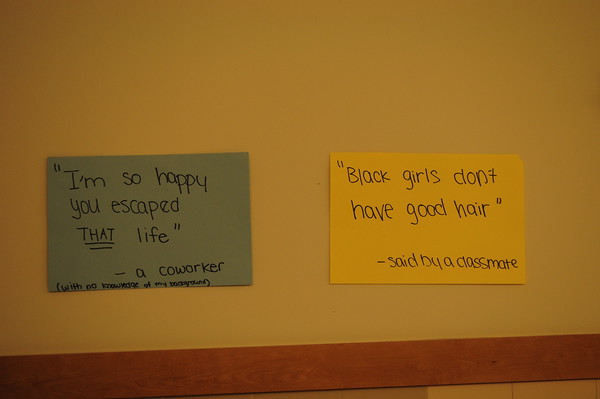 "We're trying to let people know what has been said in the school, and it's not okay because it happens and then no one talks about it," senior Alex Chused said. "We just gloss over it and assume that there are no issues, but by putting up these posters people can see that it does happen, and it needs to stop."
When the signs were first put up, some teachers took them down, thinking they were offensive.
"At first, it was a misunderstanding," Chused said. "The first time they saw it, one said 'I'm going to your house for fried chicken,' and they thought it was 'white people being racist and jerks,' and that's why they wanted to take them down."
After explanations from the organizers, the signs were returned and put up with the others in one area.
Several advisories had discussions about the posters, and some students had negative reactions to them.
"I feel like the point was to bring awareness to black stereotypes because there are a lot of stereotypes about black people that aren't true," junior Josh Lee said. "But many people took it offensively and saw it as racist."
According to Lee, after students in his advisory discussed the topic, many students were more calm about the posters and wanted to know what they were about.
"I feel like we should integrate this information into advisory because my advisory was actually intrigued by the signs. We actually had a debate on the signs, and we talked about race," Lee said.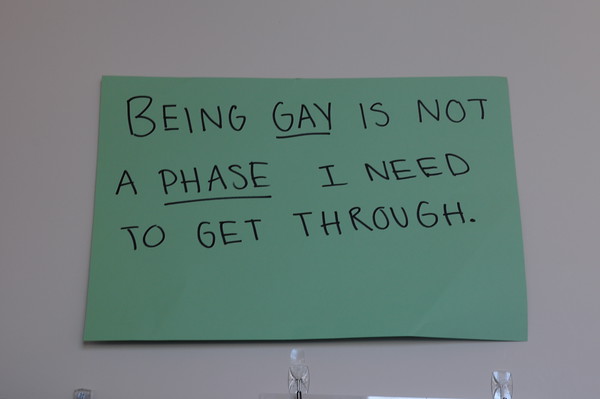 Librarian Joanne Schmidt agrees that such issues need to be talked about even if they don't seem as prevalent at WHS.
"It's really discouraging that in 2015 people still have to hear [comments] like that, and worse, that people still think and say homophobic and racist things like that," Schmidt said. "That those people exist at WHS is really hard to see, but I'm glad that it's being publicized, so we can start talking about it."
Juniors Dominique Griffith and Selena Plummer, two of the students who made and put up the posters, said that the major goal of the signs was to facilitate conversation about race and other such problems and are glad that the signs are doing that.
"Race is a big issue. It's an issue that people don't feel comfortable talking about, but it needs to be talked about," Plummer said. "It's the big elephant in the room that nobody talks about even though there are many different races here."
The two notice the absence of conversation in the classroom as well as outside of it.
"When you leave something not discussed it leaves some kind of void. You're in class, and you're reading Huck Finn. That's a race issue right there," Griffith said. "They have us read all these books about race, but they don't want to talk about it."