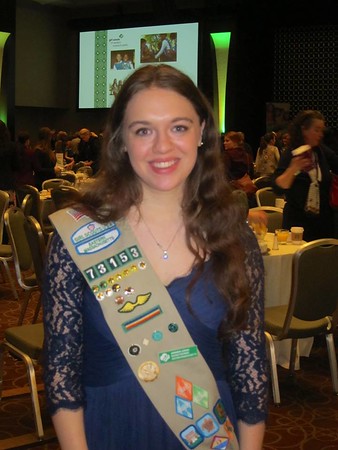 Everybody recognizes those green cardboard boxes with the words "Thin Mints" printed across the front. The round, chocolate-covered cookies inside are synonymous with the Girl Scouts and are a favorite for many. Junior Mandy Judah shows us there's a lot more to the Girl Scouts than just cookies.
Judah joined the Girl Scouts in first grade as an after school activity while attending school in Seattle.
"I wasn't really into sports, so it was kind of the only option at my smaller school, but I ended up really liking it," Judah said.
Now Judah is part of a Wayland Girl Scouts troop, serves on two committees and is a member of the Eastern Massachusetts Board of Directors. Chosen through a selective interviewing process, Judah is one of the four girls members on the Board representing 35,000 girls.
"My role as a board member has just been so great to see this whole world of professional women and men on the Board," Judah said. "[It's great] just seeing what they can do and how much they want to work for this nonprofit organization."
Currently, having already earned a Bronze Award and Silver Award, Judah is working toward receiving a Gold Award, the highest award a Girl Scout can earn. It entails at least an 80 hour community service project with a sustainable component.
Her proposal to create primary source tool kits for third grade teachers to learn about local historical women has recently been approved, and she is now working with two mentors to bring her plan to life.
"I have some great mentors that are really encouraging me on this project," Judah said.
Last Wednesday, she attended the Leading Women Award Ceremony where five accomplished women are recognized as role models. Judah was one of the five Girl Scouts who had the opportunity to introduce one of the five honorees.
Judah explains being a Girl Scout is now an integral part of her life.
"I think I've done it for so long, I can't really imagine a year without cookie sales or a year without me going to camp," Judah said. "I think overall, the Girl Scouts are about just getting along with other girls and seeing what I can do to try new things."