Wayland to host TEDx conference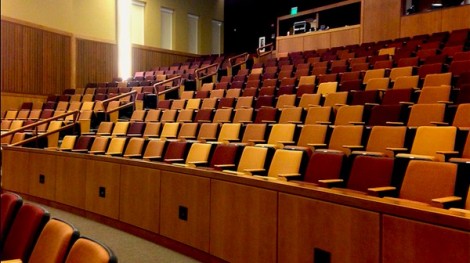 Wayland High School and Wayland Middle School are holding a TEDx event, from 2:00 to 5:30 p.m. on May 9. A TEDx event is where a series of lectures and ideas are presented, and for this event, just students will present. TED, which stands for Technology, Entertainment, Design, was founded by Richard Saul Wurman and his partners in 1984 and is now an annual conference. Outside the main conference are independently run TED conferences, called TEDx conferences, held around the globe, and this year Wayland is hosting one.
"We decided that the theme of our TEDx event is 'ideas worth spreading,' and we will have speakers who fall under the category of having these 'spreadable' ideas," junior and event organizer Gabi Ragazzi said, who got a license from TEDx that allows the event to be hosted at WHS.
Auditions for the conference were held on March 14 and 15. At the auditions, about 40 students from both the middle school and high school pitched their ideas to the organizers.
"We were looking for innovative ideas that are different and that people were passionate about," Ragazzi said. "We received a bunch of awesome ideas, but some of them were a tad too personal, but we really kept an open mind in our auditions. We mostly wanted kids who had a lot to say, knew about their topics and had a different opinion on an issue."
Ragazzi expects there to be about 10-12 speakers and four to five performers at the conference and for it to last about 3 and a half hours. Each individual presentation will be about six to 18 minutes long.
According to Ragazzi, the students will prepare for the talks with coaches, who will help one-on-one with public speaking and developing the students' ideas.
Principal Allyson Mizoguchi is supportive of this event and has been involved in its planning.
"I'm really excited about the possibility of this event becoming something annual, a regular, traditional event. There are a lot of students here who have amazing ideas, and there aren't a whole lot of forums where students can share those ideas," Mizoguchi said. "So this is a kind of interesting way to get those ideas out there and honor what our students are thinking."
"We have put in a lot of effort into this conference, and I really think it will pay off," Ragazzi said.
Speakers:
Nour Sayeh (11th grade)
Jack McCahan (6th grade)
Lila Masand (11th grade)
Anne Flaherty (11th grade)
Tommy Lewis (12th grade)
Sylvia Lagor (7th grade)
Daly Place (12th grade)
Will Danforth (9th grade)
Declan Nolan (12th grade)
Hugh Jones (10th grade)
Rachel Hawley (12th grade)
Tachi Griffiths (12th grade)