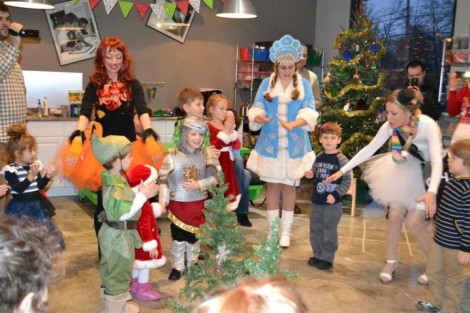 From reading stories to young children to helping groups of kids with fun crafts, junior Lina Baranovsky spends many of her weekends interacting with children by helping run birthday parties at Noah's Art in Framingham.
Noah's Art is a children's art studio company, and Baranovsky has been working at the Framingham location for around two years. While the studio also offers both art classes and birthday parties, Baranovsky helps run themed birthday parties that revolve around art projects and crafts.
The various themes include under-the-sea, jungle, outer space, princess and prince, garden, pirate, seasonal and more. Different activities correspond with each theme. For example, for the princess and prince theme, kids will decorate tiaras and watch a shadow-puppet theater performance of the Princess and the Pea.
Baranovsky interacts with the kids a lot during the party and enjoys how she works with them on a personal basis.
"There's constant attention to every child. Whatever they need we'll get to them, and it's a really good place, and I love my job," Baranovsky said.
One of Baranovsky's favorite memories was talking to one of the kids at a birthday party. According to Baranovsky, one girl gave her a hug, and said, "You are the best person ever."
"I just felt really appreciated that she enjoyed the party, and since I'm not an adult, I don't really know what I'm doing exactly; this is just a part time job. I felt really loved when she gave me a hug at the end," Baranovsky said.
From Baranovsky's experiences with her job, she has decided that she wants to work with children when she's older.
"I really want to be a teacher and working with the kids just really opened my eyes to make me realize what I'm good at and what I like doing," Baranovsky said. "This job made me realize that I am able to work with children, and I don't get repelled by them at all, and that I want to pursue something like that in the future of my career."
Baranovsky says that she's also learned to be more patient and how to interact with different types of kids: kids with problems or kids with unique accommodations.
One challenge of Baranovsky is finding a way to deal with children that aren't cooperating. She believes it's difficult to "find a way to be strict without hurting their feelings or sounding to bossy or demanding."
Overall, Baranovsky has had a positive experience working with children.
"I like that I can have a positive impact on their lives when I interact with them because they don't know much about what's happening, and I like to know that I can influence them in a certain way," Baranovsky said. "They're usually optimistic and just make me smile."