Speakers share experiences in TEDxYouth Wayland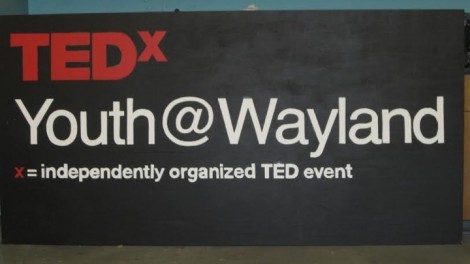 Wayland High School hosted a TEDxYouth event this past weekend, on Saturday, May 9. Thirteen TED talks and three performances took place under the theme of "daring greatly."
The event was well-attended, with the front section of the theater filled out, and the audience positively received the speakers.
"It was really cool how Jameson [Hunt] could make up music on the fly," sophomore Graham Macklin said. "He showed me that you don't always have to prepare for things and can just go with your gut."
Before presenting, the speakers were nervous but excited about spreading their messages.
"I want them to at least think about what I'm saying," junior Lila Masand said. "I know that I won't reach everyone in the audience, but I hope at least a few take what I have to say to heart."
The speakers thought their talks responded well with the audience, and the messages of their talks were well-received and thought about.
"I think my talk went well because I felt very engaged with the audience," speaker Rachel Hawley said. "There were a lot of students in the audience, and a lot of them told me afterward that my experience was consistent with their experience, and it made them think about stuff, which is all you want."
List of events; Click on Title of Talk To See Video of Presentation
Declan Nolan: Transgender Representation in the Media
Hugh Jones: Getting to the Point
Nour Sayeh: Finding the Positive Light in Hardships
Tachianna Griffiths: Provoke a Response, Start a Conversation
Jameson Hunt: Don't Read Music, Make Your Own
Sylvia Lagor: Introverts in an Extrovert School
Rachel Hawley: In Defense of the High School Underachiever
Intermission – background piano music by Casey Troost
Will Danforth: Redefining Impossible with Sound
Anne Flaherty: Animal Rights: A Series of Realizations
Lila Masand: Dare to Say the "F" Word
Jack McCahan: Searching for Life Among the Stars
Gabi Ragazzi: Guitar performance
Naiya Davis: Ouch… Did You Really Mean That?
Daly Place: Helping Yourself Through Helping Others
T-tones: Vocal performance