WHS exchange students' experiences in China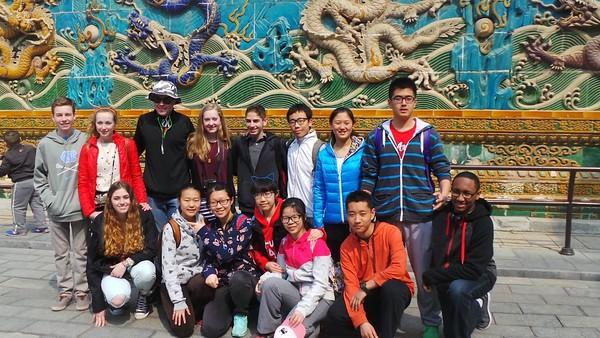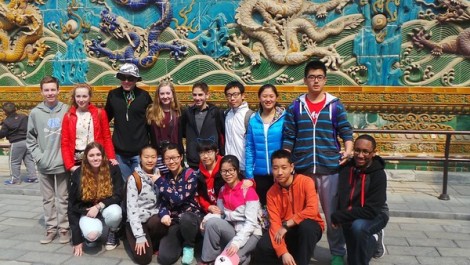 When did you first decide you wanted to go on the trip?
Freshman Ella Johnson: In seventh grade, people came in from the program and told us a little bit about it, but at that point it we didn't really have any idea what it was. In eighth grade, the people actually came in and told us the next year we could have the opportunity to go, and that's when I knew this was something I really wanted to do.
Freshman Cassie O'Heron: I decided in seventh grade.
Freshman Logan Dawson: We were introduced to the possibility in seventh grade, and Lucy and I decided we really had an interest in it and really wanted to go.
Freshman Kaire Bernier: They gave us this presentation in seventh grade about the trip, and that's when I knew I wanted to go.
Freshman Zach Knapp: The first time I heard about it was in seventh grade. My mom had just gotten back from China, and I was fascinated with everything she told me about the country, and I thought it would be really cool to see it for myself.
Freshman Chris Balicki: In seventh grade, my Mandarin class was given a presentation about going to China, and I was interested and knew I probably wanted to go.
Freshman Lucy Hughes: I actually decided way back in seventh grade. Ms. Fong came into our class and told us about it, and Logan and I were sitting next to each other and as soon as she brought it up we looked at each other and we knew we had to do this.
How did your workload in China compare with your workload in Wayland?
Johnson: While I was in China, I did most of my Wayland work, a lot of studying, but it's hard to focus on that when you're in such a different place and there are so many things to do, so that wasn't my top priority.
O'Heron: It was a lot more work because we didn't have any teachers to help us with it. All of our classes' work was scaled back except science and math.
Dawson: It was a lot per night. We would have quizzes from the program and homework from the program. But, the teachers in Wayland were super light on us.
Bernier: It was about the same. We had both Wayland work and Chinese work from the program while we were there.
Knapp: We had a decent amount of work from our Chinese program. It was not that bad though because we had long deadlines for that work. The work from Wayland, to be honest, I did not really do much.
Balicki: In China, there was not a lot of work from the Chinese school itself, but we had a lot of work from Wayland. We would have some Chinese homework and also try to keep up with work from back home.
Hughes: Going into it, I didn't think I would have that much work, but I did. I had two private Chinese classes a day, and a culture class. So we ended up having around two or three quizzes a week. Plus, we had to manage all of our Wayland school work.
What was the biggest cultural difference you noticed between the U.S. and China?
Hughes: They have a different concept of education. Here you want to be well-rounded, you don't want to only do one specific thing. You want to do extracurricular activities and your academics. Over there, it's all about academics. They are so completely focused on their education.
O'Heron: They don't have personal space. They like to get next to you and not move. They also spend most of their time doing homework.
Dawson: The kids there don't play a lot of sports. The society in Beijing was more about academics and business. People are very reserved and keep to themselves, very laid back.
Bernier: The bathrooms are very different. The showers don't have tubs, and there are squat toilets in public for people to use.
Knapp: School is huge there. For example. my exchange student and I would get home and and immediately she would start working on her homework, and would go to bed at midnight.
Balicki: One would probably be their hygiene. They shower only at night, not in the morning, and definitely not as frequently as we do. Also, they had squat toilets.
Hughes: The people there smoked inside, which I hated. Everyone was very outgoing at their school, which is kind of the opposite of here, I guess, because everyone has their own group and such.
What was your favorite part of the trip?
Johnson: During Wayland's April break, we went on a trip to Xi'an, another city in Beijing, and it was absolutely amazing. That's when we really started feeling that sense of independence. We stayed in a hostel, a hotel, we had our own rooms and could go out at night.
O'Heron: The people I met, like my house family and my Chinese classmates.
Dawson: Going out with my classmates and walking around the city, penny boarding, buying food, and just having freedom.
Bernier: Going around the city with my host sibling and his friends and getting stuff at the arcade.
Knapp: The week we spent in Xi'an. Mostly because it felt more like a vacation. I was so immersed in the culture. You almost feel like a citizen at a certain point.
Balicki: Going to Xi'an, and also having a full Chinese conversation with some random dude at the summer palace was pretty cool.
Hughes: During April break for Wayland, we went to Xi'an for a week. I loved being with my host family, but it was good to get away for a week. The guys had their own room, the teachers had theirs, and it was me, Cassie, and Ella in ours. We got to be very independent.
About the Writer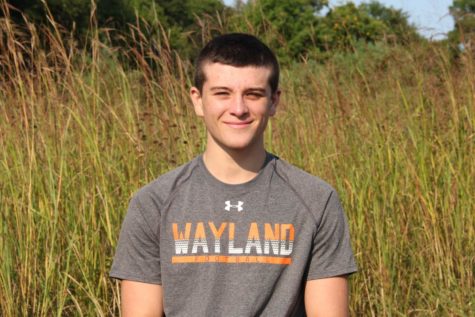 Duncan Stephenson, Editor-In-Chief
Duncan Stephenson is a senior at Wayland High School. He is one of three editor-in-chiefs of WSPN. This is his fourth year writing for the publication....