Masha Yakhkind: It's just so many people, and everybody there just really loves dance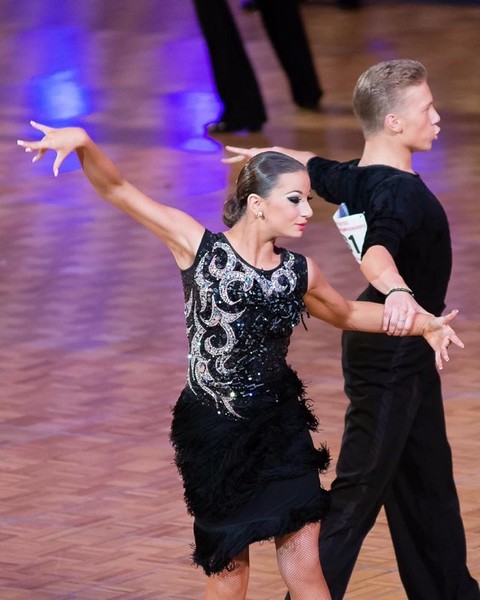 She hits the dance floor with a crowd of hundreds of people watching, the spotlight shining on her and her partner's face.
Sophomore Masha Yakhkind started ballroom dancing when she was nine years old and has danced ever since.
"I do competitive ballroom dancing, and I started when I was nine, which is actually kind of late to start, believe it or not, but I really grew to love it," Yakhkind said. "I started when I went to one of my friend's showcases, and I saw these professionals that really inspired me. I just knew I wanted to be like them and learn how to dance like that."
When Yakhkind first began dancing, she didn't have a partner and would just dance with her teacher. Once paired with her first partner, they danced together for around a year before parting ways. Yakhkind explains that her current partner moved from Russia to dance with her.
"My dance coach contacted his old dance teacher and asked if they had anybody who was willing to move," Yakhkind said. "He lives with me in my house now, so it's kind of tough. He's like a brother to me, and we have this love-hate relationship."
According to Yakhkind, she has won first place in many smaller competitions and has come in second and third in a few major ones. She says that winning is hard because there are over 50 pairs at every competition.
Yakhkind thinks her biggest accomplishment so far is having been selected to be on Team USA for the Blackpool Dance Festival, an international competition.
"Last year I represented Team USA at Blackpool, which is a huge tournament in England," Yakhkind said. "I placed 19th out of 300 in one of the categories and 17th in the other. Surprisingly, I actually beat the national champions at the time."
Yakhkind enjoys the many different moves in ballroom dancing, especially the basics.
"I love rumba walks that are slow, so I can show off my technique to the judges," Yakhkind said. "I also love batucadas, which are fast movement in samba where the dancer shows off rhythm and speed."
Her favorite part of ballroom dancing is the competitions.
"I love the atmosphere of the competitions. It's just so many people, and everybody there just really loves dance," Yakhkind said. "The other dancers cheer you on even if they're competing against you. I just think that ballroom dancing is a great experience, and anybody that wants to try it should."