Athlete of the Week: Bronwyn Davies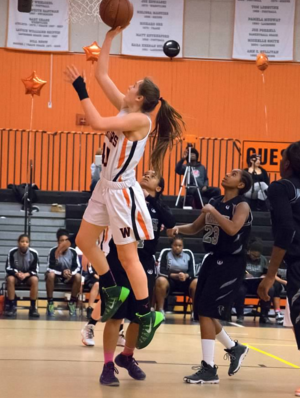 Name: Bronwyn Davies
Grade: Senior
Sport: Basketball
Achievements: Davies is a two year captain (junior and senior year) on the WHS girls' basketball team and was a DCL All-Star her sophomore and junior year. Also during her junior year, she made the Metro West Daily News Super Team and was a Boston Globe Player of the Week. Outside of school, Davies plays club basketball for AAU (Amateur Athletic Union), and her junior year her team won the US Junior National Championships. In her sophomore year, she and her team were state finalists, ESPN Wide World of Sports Super Showcase Finalists, and US Junior National Finalists.
Sports Idol: Davies' sports idol is LeBron James. She believes he is one of the most versatile players in the NBA,and works harder than everyone else despite his negative reputation. "He is also an amazing defender, and I think defense is one of my stronger areas. My nickname is also LeBronwyn, so I'm forced to like LeBron," Davies said.
Favorite memory: One of Davies' favorite basketball memories was last year in D.C. when her club basketball team won the National Championship."It was so much fun to watch our team go from not winning anything in the fall and spring to winning a national championship. The progress was unbelievable, and I think that was the best part of it," Davies said.
Quote: "I like the physicality of [basketball]. In a lot of girls' sports you aren't allowed to use your strength to your advantage, but in basketball, especially down low, the most physical player wins. I also love how close the team gets, and having such a small team definitely helps. Watching your team get into a rhythm is such a cool thing to experience, such as knowing exactly where your teammate wants the ball if she's going to shoot it, or knowing when your teammate is going to pass you the ball when you're cutting. I also think that basketball is one of the more fair sports which makes it fun to play, because the better team usually wins, but only if they bring their all. Because it is such a high scoring game, there are never any freak goals, like there are in soccer that can decide the game; the game is decided by the dedication and work of the team."