Silent section of the library is created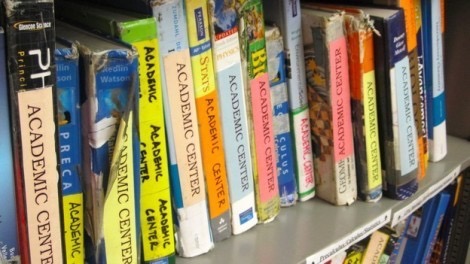 The media center fluctuates between silent and noisy at different times of the day. Library media specialist Joanne Schmidt is spearheading a new program to change that; there are going to be designated talking and silent sections in the media center.
"The silent section started as a result of our work with student council over the past two years and high demand of students requests for quiet places to study," Schmidt said.
The Media Center is now split into two parts, a talking section and a silent section. The talking section is closer to the door and the silent section is in the back.
"It just made sense as the noise usually starts at the door and then moves backwards to get more and more quiet as you get towards the back," Schmidt said.
"The feedback has been really good, especially for the study carrels. People who use those a lot really like that they are in the back and that they are more quiet," Schmidt said.
According to Schmidt, it is difficult to change the culture of the Media Center.
"The culture here is the Media Center is a comfortable place to hang out. Getting the message that this is not that place anymore has been hard, but what we agreed with student council two years ago was that the library would be the quietest place, the SLC's [Student Learning Centers] would be a mid-level group work kind of place and the commons would be a free-for-all. So just trying to shift that the library is a hangout place has been the hardest part," Schmidt said.
Another problem that the silent section currently faces is overcrowding during lunch block and the new addition of several board games.
"I have not figured out what we are going to do with lunch block. My other problem has been with the games. They are so popular but they are so noisy," Schmidt said.
Schmidt did have one idea that would she thinks would help solve the lunch block problem.
"I think that as we move into the digitization of information, we can get rid of more print books and are able to buy more tables to fill that space. I was actually shopping for furniture the other day. I want something that is a lot more flexible and portable," Schmidt said.
Schmidt is open to suggestions from students in ways to improve the silent section.
"If anyone else has suggestions, I'm more than happy to listen to them. For now, I'm happy with the back being the silent section. I feel like the kids who didn't come here in previous years [because it was too noisy] are now coming back," Schmidt said.