The history behind the Wayland-Weston Thanksgiving football rivalry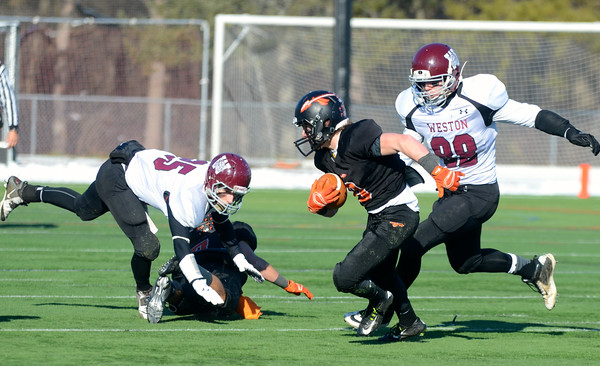 This Thursday, Thanksgiving Day, Wayland and Weston will play each other in their traditional Turkey Day rivalry game.

Event Name: Wayland-Weston Annual Turkey Day Football Game
Time and Date: Thursday, November 26, at Weston High School, 10 a.m.

All-Time Record:
Wayland – 48 wins
Weston – 30 wins
Ties – 2

Record in the Last 10 Years:
Wayland – 9 wins
Weston – 1 wins
Ties – 0

Game results from the last 10 years:
2005- Wayland 52, Weston 15
2006- Wayland 38, Weston 0
2007- Wayland 34, Weston 8
2008- Wayland 21, Weston 12
2009- Wayland 37, Weston 8
2010- Wayland 21, Weston 28
2011- Wayland 22, Weston 20
2012- Wayland 35- Weston 7
2013- Wayland 27, Weston 0
2014- Wayland 35, Weston 34

Wayland player to watch: Mike Connell, Wide receiver/Linebacker, #7
Weston player to watch: Liam Wrean, Quarterback, #5

Trophy at stake: The "Post Road Gridiron Classic" trophy (since 2001)

Opinion on rivalry: "I think it is a great way to end the season. What's better than playing your rival on the last game of the year and on Thanksgiving when everyone is home?" Wayland Head Coach Scott Parseghian said.
Most memorable game: "I guess I would have to say last year's game is fresh in my mind, and it was a great game. We were down by 21 points, and we came back to win by one point," Parseghian said. "The funny part was that a lot of people left because they thought there was no way we could win. The next day I must have gotten 10 calls asking if we really won."
Craziest memory: "Last year we had a play where everyone thought the whistle was blown, so everyone stopped playing except Charlie Tillett, who caught a pass from Robert Jones, and he pretty much walked 50 yards into the end zone to start the comeback," Parseghian said.
Rivalry origins: The exact reason for the start of the rivalry is unclear, but according to Parseghian, it is a result of Wayland and Weston being neighboring towns.

Biggest Wayland win: Wayland won 38-0 in 2006.
Biggest Wayland loss: Weston won 34-0 in 1992 and 1995.