Meet Wayland High School's new athletic trainer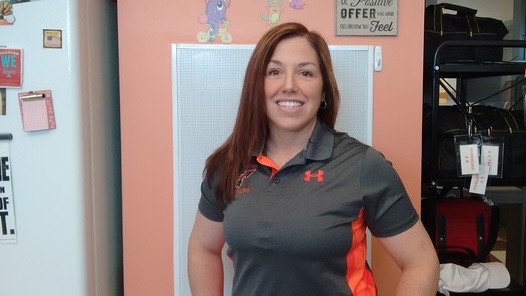 Amy Schwartzkopf is Wayland High School's new head athletic trainer. After working as an athletic trainer assistant at WHS for 11 years, this year Schwartzkopf has taken over the head athletic trainer position former trainer Chris Brown held for 33 years.
Schwartzkopf started working at WHS in 2005 as a wrestling athletic trainer. She served as the active athletic trainer during their matches, tending to any injured athletes.
She worked exclusively as a wrestling trainer until 2013, when she began to work in other sports, including hockey, wrestling, lacrosse, soccer and football. She started out only covering freshmen and junior varsity games but later worked on varsity games, including last year's Thanksgiving day football game.
Schwartzkopf believes in consistency. According to her, a team with consistency is more likely to win.
"I'm very superstitious, so when the boys' soccer team was doing so well last year, I traveled to all their games without pay. I feel teams need consistency, and they feel a sense of security when they have that consistency," Schwartzkopf said. "I want to be there for them."
She also believes that each team deserves to see her, even if she doesn't get paid for it. According to Schwartzkopf, the school calculates her pay by dividing 1,100 total yearly hours by the 44 weeks of school, which comes out to 25 hours a week.
"I get paid hourly, but I don't punch a clock. I just get paid 25 hours a week for every week. I work more than that," Schwartzkopf said. "Every team deserves to be able to see me. If I leave before the basketball team starts practice at 6:00 at night, that's not fair. What if they needed to see me?"
Schwartzkopf believes skill in building relationships is the key to being a good athletic trainer. According to her, students trust her and will come to her when they're hurt instead of hiding it.
"Even if you're not the smartest trainer on the planet, if you are good at developing relationships and communicating and fostering [the athletes], then you can be very successful," Schwartzkopf said.
This year, Schwartzkopf has implemented a "full circle of care" for injured athletes.
"I have a doctor's office [available to see the athletes] within 48 hours, which we didn't have before," Schwartzkopf said. "I also have a physical therapy clinic that will see them in 48 hours if the doctor prescribes it, and then I work with the [school] nurse."
Schwartzkopf feels she fits in at WHS and is happy to be a part of a community that has been so hospitable and kind to her.
"It's really great to finally be somewhere that I feel my personality fits with the community. The parents, everyone, they're just so amazing and involved, which isn't the case everywhere," Schwartzkopf said. "They care on the level that I care. They're passionate on the level that I'm passionate."
Schwartzkopf explains that although she runs things differently than Brown did, she respects her and is thankful for her guidance.
"I am completely different than trainer Brown was. She had a way of working with an organized chaos because that's how her brain worked, and I am OCD," Schwartzkopf said.
"Brown taught me a lot and was very gracious in the way that she brought me aboard and worked me in the last two years when she knew she was going to retire," Schwartzkopf said. "I think what [Brown] found here was a gold mine. She passed it down to me, and I'm really lucky [for that]."
About the Contributor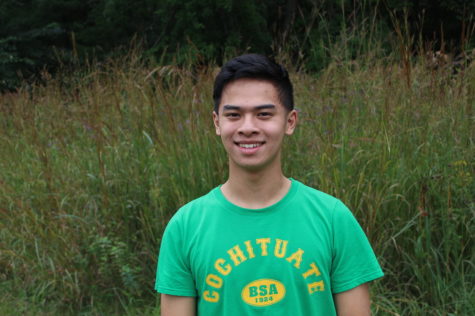 Nathan Zhao, Editor-In-Chief
Nathan Zhao, class of 2019, is a co-editor-in-chief of WSPN. This is his fourth year on staff. Previously to becoming EIC, Nathan served as the news section...