"Eppi Pen EP" album review
Senior Evan Hughes released his newest album, the "Eppi Pen EP," in July of 2015. The name comes from Hughes and his performance partner, Anthony Schleppi, combining their names, "Evan" and "Schleppi." According to Hughes, some mistake the title for a misspelling of EpiPen," an instrument used to administer adrenaline to treat allergic reactions.
Along with Hughes, the album features the talents of guitarist Jake Jolliffe, rapper Thomas Leacu, also known as LeQ, and singer Andrea Vogt. Jollife and Leacu are seniors at WHS as well, and Vogt graduated in 2015. The album cover was taken and edited by senior and photographer Calvin Laituri.
Combining his talents with other students of Wayland High School, Hughes' "Eppi Pen" presents a world filled with songs ranging from soft, warming acoustic rock to booming, authentic hip-hop. Hughes did an outstanding job bringing out his talent, combining rock and hip-hop genres to tell a story through his music.
Must listen: Ocean Boulevard
Song to skip: Hit You (Interlude)
Song: Long Story Short
Artist: Evan Hughes
The main, catchy tune preludes the song along with some dialogue. Hughes then integrates a pinch of an a cappella-like beat with his vocal talent, welcoming the listener to the land of hip-hop beats accompanied by tropical guitar. The song continues with the same beat and guitar but with a small vocal and guitar solo along the way. This song gives the "chill out and relax" feel, as the same serene tune plays over and over without any spontaneous change in rhythm. Overall, "Long Story Short" is a cute, soothing introduction that pulls listeners into Evan Hughes' extraordinary world of "Eppi Pen."
Song: Ocean Boulevard
Artist: Evan Hughes feat. Jake Jolliffe & LeQ
Ocean Boulevard is a lush song to listen to while chilling with your friends. The drums keep a steady beat, along with the occasional guitar strum played by Jake Joliffe. The background music is, overall, well-tuned, giving the song a happy, summer mood. There are satisfying vocals by Hughes and LeQ over the background music. The drums in the background go well with Hughes' vocals but sometimes wash them out. Overall, the song is well composed.
Song: Hit You (Interlude)
Artist: Evan Hughes feat. LeQ
The background beat of the song brings back the '80s vibes. It gives the feel of when hip-hop became popular in the Bronx. Similar to Long Story Short, the same tune plays throughout the whole song. This could get the crowd riled up during a concert. However, if I had to skip a song in this album, it's probably this one. This song lacks variety and doesn't seem as well-thought-out as the others. Also, since this interlude is short, there are more interesting songs to listen to in the album.
Song: Sunrise
Artist: Evan Hughes feat. Andrea Vogt
A calm acoustic guitar introduction creates a serene spring feeling at the beginning of the song. With long, calm notes echoing, Hughes' clear voice emerges after a couple of seconds into the song. The guitar is on beat, which is pleasing to the ear. Andrea's vocals stay in tune throughout the whole song.
Song: Bluebird
Artist: Evan Hughes
Hughes has created yet another tune that could turn a frown upside down. Hughes' vocals lead the ukulele solo, and the song continues with a peaceful atmosphere. Compared to the other songs in the album, this one is calmer, without any heavy hip-hop beats, adding to the album's diversity. Then, halfway into the song, drums start to accompany the ukulele, along with a whistle solo. There is a pause in the middle of the song, which is a little random. But then Hughes adds chimes and a trumpet-like sound, making the song a little more dramatic.
Song: Adrenaline
Artist: Evan Hughes
This song concludes the album with a synthesized intro and unique beats. This phenomenal hip-hop finale adds diversity to an album that mostly contains acoustic songs. In this song, Hughes incorporates long singing notes and pauses with hip-hop based rhythm. Weirdly enough, this song has a lot of energy to it, hence the name Adrenaline. However, one downside is that the rest of the song is just instrumental. Other than that, Hughes did an outstanding job creating his own version of modern hip-hop.
This album focuses mainly on rock and hip-hop. The rock songs in this album would probably be good to listen to during a long car ride or hanging out with friends. The hip-hop songs would probably play well at a huge rave or party to bring the mood. Compared to his other albums, "Eppi Pen" is a huge improvement.
Opinion articles written by staff members represent their personal views. The opinions expressed do not necessarily represent WSPN as a publication.
Leave a Comment
About the Contributor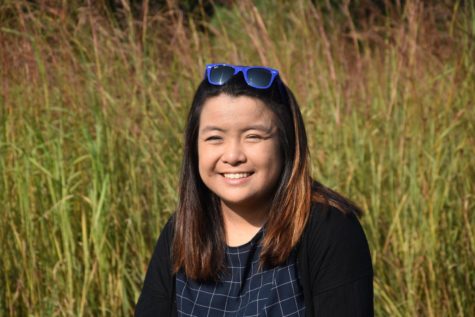 Natalie Hsu, Graphic Design Editor
Natalie Hsu, class of 2018, is a Graphic Design Editor for WSPN and this is her third year on staff. She is the president of People Assisting Wilds and...