Zack Dresens: It's just something I love to do, and that's what I want to do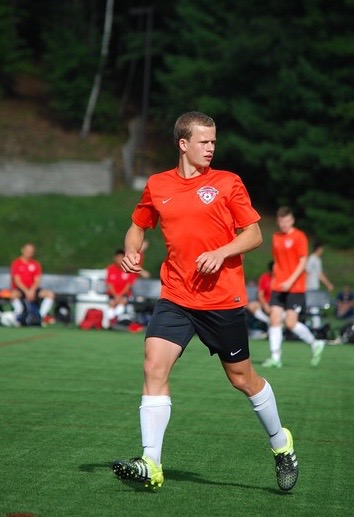 It's a snowy afternoon on a Friday in January. The long distance track team just finished three miles on the outdoor track, and the light is fading fast. After some complaints, the coach lets the runners go inside, but on the way in, the runners glance back to see a student on the turf. This athlete has shoveled out a square of turf and is kicking a soccer ball around a series of cones. The next week, the soccer player is in the same spot, practicing in the cold.
This soccer player is sophomore Zack Dresens. Dresens has been playing soccer since he was four years old. Since then, he has dedicated himself to the sport.
"There were clinics when I was younger, and my parents signed me up, and I just loved it since," Dresens said.
It's the only sport Dresens plays, but he plays it on four different teams. He is on the WHS boys' varsity soccer team in the fall, participates in Global Premier Soccer (GPS) and the Olympic Development Program (ODP) in the winter and spring and plays on the District 4 club team in the summer.
Dresens plays central midfielder or right back, a defensive position, but over the years he has transitioned more towards the right back.
To keep in shape between seasons, Dresens does technical drills on the WHS turf and utilizes the weight room to improve his strength.
"I don't view [off-season exercises] as something that wastes my time," Dresens said. "After school I don't have anything planned, so I'll go down to the turf and come home and do my homework. That's what I like to do."
His short-term goal in soccer is to make the ODP regional team. According to Dresens, there's a tryout for the ODP regional team in July open to states Vermont to Maryland on the east coast.
"Each individual state team went to try out last year," Dresens said. "I went, but I wasn't selected. But there were about 300 kids in total, and they narrowed it down to about 35 [or] 40 kids."
Dresens also shares that his long-term goal is to be a professional soccer player.
So far in his soccer career, Dresens has achieved multiple accomplishments. He made the high school varsity team this year, his ODP team has won the District Select Tournament for the past three years and his former club team last spring won the Cape Cod Tournament.
"[Soccer] is really enjoyable. I love it," Dresens said. "It takes my mind off of other things, if I'm stressed or if I'm not. It's just something I love to do, and that's what I want to do."