Warrior Weekly: Wayland, college and pro sports recaps
Hello all, my name is Duncan Stephenson, and I am the sports editor for WSPN. Starting today, I will be updating "The Warrior Weekly" blog every week. In this blog I will discuss WHS teams, college athletics and professional sports. Topics will include anything from recaps of events of the past week to my opinion on the most controversial issues in sports.
WHS Sports:
The WHS wrestling team, led by head coach Sean Chase, capped off their undefeated season with a victory in the MIAA division three state tournament two weeks ago. The team finished their regular season with a record of 21-0 and took home the dual meet state championship as well.
The girls' basketball team wrapped up their regular season schedule with a 54-40 win over Bedford last week to secure the DCL title. The team is led by star player and senior Bronwyn Davies, who recently scored her 1,000th point for Wayland. Davies will play basketball at Yale University next year.
However, the boys' team struggled throughout the season, finishing below the .500 mark and missing the postseason tournament.
College Sports:
It's almost that time of year again… March Madness is just around the corner! The college basketball regular season will be ending shortly, and Selection Sunday (Sunday, March 13) is fast approaching. This year has been one of parody in college basketball with no one team looking like the best in the country; almost all of the top ten teams have 4+ losses. This should make for an exciting tourney.
As of now, my favorite to win it all is North Carolina. They have the deepest roster in the country and the star power you need to make a run in March (PG Marcus Paige and F Brice Johnson lead the team). As soon as the brackets are released, I will post my very own predictions, so stay tuned.
Professional Sports:
The NFL combine came to a close this Monday, with college football's brightest stars going through field workouts and private interviews with teams in Indianapolis. Top RB prospects Zeke Elliot and Derrick Henry both had outstanding combines. Some question whether or not such an event is necessary in the draft process, and I say that it absolutely is. I feel it is important to see how prospects respond to the pressure of having to perform well on the field and in interviews with numerous NFL teams.
The Red Sox just began spring training and are looking to bounce back from a disappointing season with the help of free agent signings David Price and Craig Kimbrel. Both are star pitchers who will help the Sox this coming season.
Meanwhile in the NBA, Steph Curry is proving he is the best player in the world. That's right, he has officially de-throned "The King" (LeBron James) with his 46-point masterpiece against the Oklahoma City Thunder on Saturday night. Curry hit 12 three-pointers, tying the NBA record for the most in a game, the last of which he knocked down with one second left in overtime to win the game. Not to mention he broke his own record for most threes made in a season. This dude is ridiculous.
About the Contributor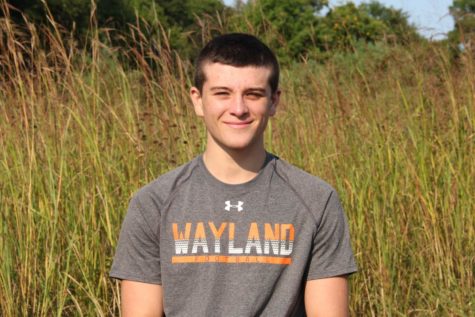 Duncan Stephenson, Editor-In-Chief
Duncan Stephenson is a senior at Wayland High School. He is one of three editor-in-chiefs of WSPN. This is his fourth year writing for the publication....