Jaylen Wang: Tennis is 90 percent, maybe even 95 percent, a mental sport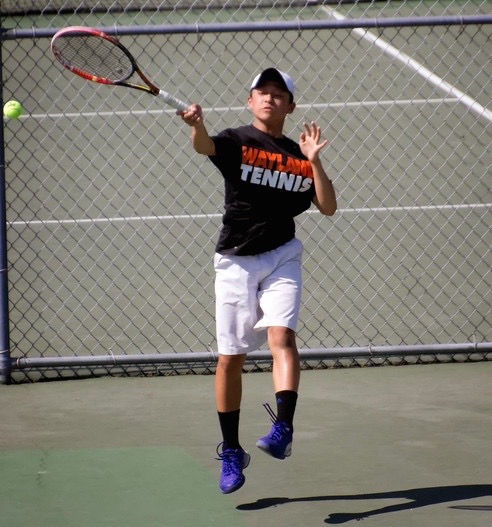 A tennis ball soars over the net on a hot day. Sophomore Jaylen Wang slaps away shot after shot, sending the tennis ball back towards his opponent every time.
Wang has been playing tennis since he was eight years old and living in Shrewsbury. Since then, he has accomplished much as a tennis player. He practices for two to three hours a day, six days a week, has strength and conditioning training once a week for an hour and does physical therapy twice a week.
According to Wang, last summer he went to Austin, Texas to play in a level one tournament, the highest level in the United States Tennis Association (USTA) at the national level. There, he won two matches. Wang also played another level one tournament in San Antonio, Texas.
He has also played at the USTA Zone Team Championships (or "zonals") in Michigan, which is where teams made up of 12 boys and 12 girls from each region compete. Wang was one of the 12 selected for the 14 and under age group from the Northeast last year and played the first position. The year before that, he played at the fourth position for the 12 and under age group.
On the WHS boys' tennis team, Wang played third singles, behind Will and Charlie Sharton at first and second singles respectively. Wang is injured with a stress fracture in his lower back and will be out for six weeks, which he considers to be "basically the entire season." According to Wang, the tennis team will need to fill those top three single spots.
He shares that the tennis team last year was a great experience, especially because of its four senior players, Will Sharton, Andrew Chen, Max Marks and Matt Maws.
"The state win was just the icing on the cake," Wang said.
Wang points to his coach, Eric Westcott, as his tennis mentor, explaining that Westcott gives him advice both in tennis and in life.
"Even when I miss a shot, he always tell me things like, 'You're only as good as your next shot,' and it really helps me because even though you might have missed that specific shot, you always have the next one to prove yourself and to get better," Wang said. "It's never over until it's over."
He says Westcott has made him a more aggressive player and that he now has more confidence when he is playing.
"Tennis is all confidence. You just got to believe you can make your shots, even if you're having a bad day," Wang said. "You just got to trick yourself into thinking that you're playing well and that you can grind out the match."
Wang's favorite tennis memory is from zonals last year. He played the first position, and for the first three days he didn't win a match, even though he came close in some sets. Wang explains that on the second to last day, an extremely hot day, he was playing a skillful player from Michigan. The first set was an hour and a half long, and they went to a tie-breaker. By then, all of his teammates had finished their matches and came out to watch him.
"They were grabbing the fence, and they were cheering, and the other team was also cheering for my opponent. It got really tight; it was probably 5-5 in the tiebreaker, and you play to seven. At 6-5, I had my set point, and it was a really long point, and I ended up getting to the net and finishing with a volley," Wang said. "I remember looking back at my team, and they were all going crazy, and I was smiling. That was really exciting, and I ended up finishing off the match in the second set much more easily."
Not all memories in Wang's tennis career have been so happy. His best friend from tennis, who is from Weston, was diagnosed with liver cancer about a year and a half ago. They spent every day at practice together and were very competitive with each other.
"It's really sad, and I feel like it happens to the best people," Wang said. "It's amazing how he always keeps a positive attitude, and he hasn't really changed much. He's still nice; he's still positive. You don't really see him get down very much."
Wang's advice to other tennis players is to stay confident.
"Tennis is 90 percent, maybe even 95 percent, a mental sport, rather than physical," Wang said. "You basically win or lose the match before you even get on the court. [It's] about how confident you are, your thinking, your tactics."
Wang hopes to play tennis in college on a Division 3 or lower Division 1 team, and he hopes he continues to play throughout his life. To Wang, tennis is something he can't live without. His injury has shown him how much he relies on the sport.
"It shows me just how much I need the sport, and I don't think I can handle quitting for more than probably a couple of days," Wang said.
Leave a Comment
Donate to Wayland Student Press
Your donation will support the student journalists of Wayland High School. Your contribution will allow us to purchase equipment, cover our annual website hosting costs and sponsor admission and traveling costs for the annual JEA journalism convention.
About the Contributor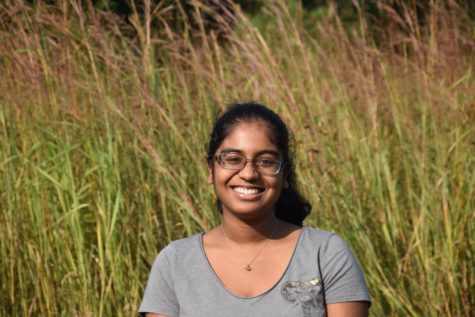 Janani Gandhi, Editor-in-Chief
Janani Gandhi is a co-editor-in-chief of WSPN. She is a senior and this is her third year on the WSPN staff. She is a member of WHS' crew and cross country...