Spring play preview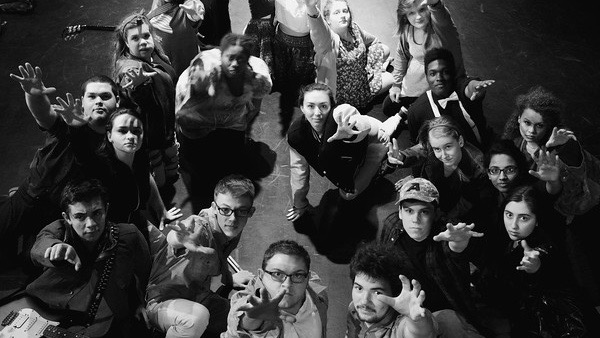 This spring, the Wayland High School Theatre Ensemble (WHSTE) presents "Waiting for the Train and Other Stories." This original play, directed by Richard Weingartner, is about growing up and how one's perspectives change as they get older. The cast wrote the production using prompts written by Weingartner.
"There isn't a main character, and there isn't a linear storyline. The show does follow a basic structural model based on the stages of a human life cycle, but there is no single narrative present throughout all the scenes," senior Jackson DiIanni said.
DiIanni, who will play Quincy Collins, describes the show as a series of monologues, songs, poems and episodes, each indirectly related to the others as a part of a larger story. Additionally, the production allows the actors to be the storytellers.
According to senior Olivia Goddard, who plays Jessica Morello, it is difficult to write an original show.
"It's a long process… but I was so happy to take part in it because there are very few colleges or high schools that write original work," Goddard said. "Being a part of this process was grueling at times, but we are proud to showcase our work."
Junior Sophia Calder, who plays Daniella Marrow, describes the play as a different style then what WHSTE typically does.
"We've never really done anything like this before. We've done original pieces and a choreopoem and the usual musicals like 'On the Razzle,' but this is another thing entirely," Calder said. "It's bizarre because there are so many smaller stories within it."
For Junior Drew O'Regan, this spring play will be his first ever. He will debut as Casey Whittaker.
"The play has really opened my eyes. I've made many new friends, and it's fun to see behind the scenes," O'Regan said. "Everyone works so hard; you really gain a respect for all the kids in the play with you."
DiIanni feels this production has challenged him more than any other play he has been in.
"Everyone contributed something original to this show, and it didn't matter if they wrote Shakespeare or Dr. Seuss. We gave everyone a platform. It took me a while to understand that though," DiIanni said. "I was incredibly skeptical at first. I'm very used to judging other people's work, and up until about a week ago, that's what I was doing. But once I let go of those opinions, everything fell into place, and I'm so happy that it did. This is a beautiful piece, and I never would have understood that if I hadn't opened my mind. That's what I learned; I learned to open my mind."
"Waiting for the Train and Other Stories" will take place in the auditorium on April 28, 29, and 30 at 7:30 p.m. Tickets cost $8.
Cast:
Drew Brodney – Kevin Wilson
Parker Bryant – Chandler Garfield
Sophia Calder – Daniella Marrow
Abby Calverly – Ari Drevings
Renee Case – Jasmine Evans
Jeremiah Darlington – Perseus Odyssey
Naiya Davis – Jennifer Brown
Jackson DiIanni – Quincy Collins
Olivia Goddard – Jessica Morello
Tyler Johnsen – Lars Gunderson
Jake Joliffe – Guitar Guy
Melinda Kalanzis – Linda Hemmings
Clara Lagor – Josephine Macklebick
Thomas Leacu – Andy Chakra
Jessica Lei – Lauren Mock
Catriona Oliver – Monica Ringwald
Drew O'Regan – Casey Whittaker
Andrea Ponce – Myra Simmons
Kira Ryter – Claudia Stevens
Steffi Saju – Hannah Jacobs
Larissa Sehringer – Taylor Monroe
Sten Shearer – Crispin Whitmore
Tim Spinale – Jack Swanson