Jack Fletcher: Volleyball is the ultimate team sport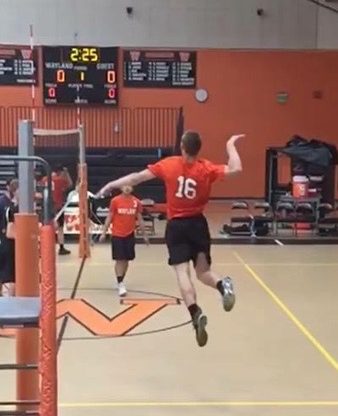 Hang on for a minute...we're trying to find some more stories you might like.
The soft touch of a set and the loud smack of a spike contrast in the sweaty gym air. Junior Jack Fletcher lines up on the left side of the court, eyeing the ball bouncing off the setter's hands. He leaps into the air, rising above the net, and slams the ball down with the palm of his hand.
Fletcher started playing competitive volleyball in his freshman year of highschool. Making the WHS boys' varsity team as a freshman, Fletcher immediately became an integral part of the team. While freshman year was the first time he played competitively, it was far from the first time he had hit a volleyball around.
"I started playing when I was a freshman," Fletcher said. "But I have been playing with my dad all of my life. He's been my biggest influence for volleyball."
Fletcher's dad is the current boys' varsity volleyball coach at WHS. He played volleyball in college at Stanford, where he made the team as a walk-on.
Fletcher doesn't only play high school volleyball; he also plays for a club volleyball team called Smash Volleyball. This year Fletcher's club team traveled to Pennsylvania State University, where they competed in a tournament. According to him, they finished in fifth place, which was enough to earn them a bid to the Boys' Junior National Championships in Dallas. Fletcher shares that this achievement is one of the most prized moments in his volleyball career so far.
"Volleyball is the ultimate team sport," Fletcher said. "My club volleyball team is the tightest-knit team that I've ever been a part of. I think that it is really fun."
Fletcher values the momentum and excitement of the sport. He explains that when you get into the game, your heart starts racing, and everybody on the team feels energized. Teammates are high-fiving each other and screaming from the adrenaline.
"When you're playing volleyball, everyone really has to be good. It is a true team sport," Fletcher said. "Sure, you can have one good player, but if you don't have a good setter or a good passer, you won't be successful."