Maggie Fiske: I felt like the way I felt in my bedroom dancing by myself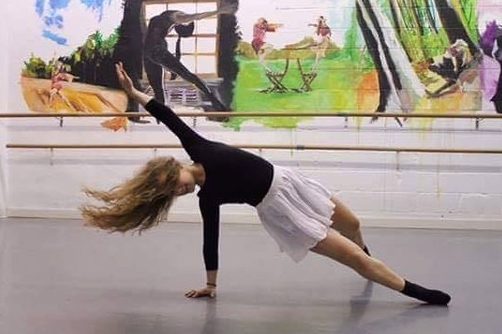 For the last 13 years of her life, sophomore Maggie Fiske has pursued her dream: to become a dancer. At three years old, Fiske took her first dance class. Since then it has grown to be something that she sees herself doing for the rest of her life.
Fiske's dance career began when her mother signed her up for classes similar to the ones her sister and best friend were taking. Now Fiske takes classes in ballet, modern, contemporary, jazz and hip-hop. Her main focuses are contemporary and modern, which, according to Fiske, are more free than other styles, such as ballet.
"For me [dance] is honestly what keeps me going. It's the only way I can release everything. It's just a creative outlet," Fiske said.
Fiske always knew she wanted to be a dancer, but last summer she realized dance is something she has to do. She danced with a company in Boston called Urbanity, the second largest company in Massachusetts behind Boston Ballet. Fiske says that even though she spent close to nine hours a day dancing, she never felt tired.
"Usually that much work would tire you out, but I just felt really energized by it. I really loved it," Fiske said. "Working for people, being in a piece for someone, it just gives you a feeling of being a part of something really big, but at the same time it's such an individual experience."
Fiske has faced obstacles to get where she is today with her dance. According to Fiske, she loved dancing at home, but when she began dancing in a class it wasn't the same. In the sixth grade, with the help of a teacher, she was finally able to feel in class like she did at home.
"[The teacher] said, 'Just dance,' and she just turned on music," Fiske said. "It was all improv, and I felt like the way I felt in my bedroom dancing by myself."
Fiske draws inspiration from her teachers. One teacher in particular left a lasting impression. Fiske shares that she took a difficult class, and she often did not want to go, but the teacher's experiences and persisting love of dance made the class worth it. The 86-year-old teacher continues to dance every day.
Now, Fiske hopes to inspire others the way teachers have inspired her. She teaches younger dancers at the dance camp at her studio. For her, teaching is different depending on the age group of the students.
"Teaching younger girls, under the age of 10, is really fun because it's mostly creative movement, getting them thinking about dance and learning how to feel free and have fun doing dance," Fiske said.
She explains that when teaching older students, kids around the ages of 10-15, she draws from her own experience as a student at that age. Once around the age of 12-13, dance students are beginning to think about the bigger picture, so Fiske tries to remember what she was thinking about at the time. Incorporating the deeper aspects of dance, such as the emotions behind a piece and what is being portrayed, is an important part of teaching older students.
"You can tell when they start to understand, and it's sort of nice because I remember the teachers who gave me a teaching environment where I had those same breakthroughs," Fiske said. "So it's rewarding definitely."