Artist of the Week: Kyle Chen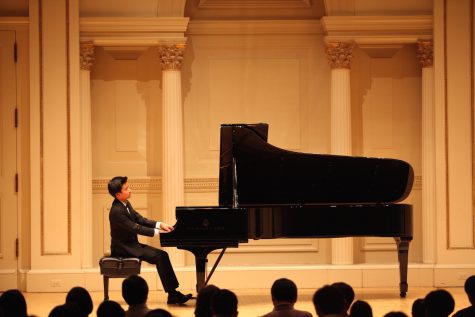 A young man sits in front of a piano, all 88 keys of the piano spread out in front of him. His fingers hover over the interchanging black and white wooden keys as he inhales, preparing to play the first note of the night. Eyes deep into the crowd were laid on him and shivers crawled down his back. Would he get the award? An honorable mention? Then his fingers pushed down, a note echoed into the air, the piece had begun.
Freshman Kyle Chen has been playing the piano for eight years, since he was six years old. The piano caught his attention when his mother was learning to play.
"I remember I was fooling around while my mom was practicing and then she got annoyed at me. She was like, 'Kyle, find something to do. Get out of the living room. Stop bothering me,'" Chen said. "I don't know how it happened, but I just got this spark of interest and I was like, 'Hey mom, can I learn to play the piano too?' I started learning from my mom's teacher and that's pretty much how it started."
In piano competitions, each person plays a piece. Following the performances, a panel of three to four judges selects the winners and gives comments to all participants.
"[Piano competitions are] pretty nerve-wracking," Chen said.
Throughout his journey in piano, Chen has won awards from Steinway, Massachusetts Music Teacher Association, New England Piano Teachers Association, and  Music Teachers National Association. He also played at Carnegie Hall in New York and was invited to play internationally in Moscow, Russia.
"I've done a bunch of competitions like Massachusetts Music Teacher Association, and I've won first four years in a row. I've won Steinway, which is a New England competition. Also, I've gotten second prize at New England Piano Teachers Association and I've gotten honorable mentions at Music Teachers National Association for two years," Chen said.
Chen's main piano inspiration is Lang Lang, but others include Yuja Wang, Evgeny Kissin, and other famous concert pianists. Chen mainly plays classical music.
"[Lang Lang] became a very successful concert pianist and one thing he taught me to do was to stay positive and don't give up," Chen said. "There are times where I feel like I want to quit because I have a big competition, I'm too stressed and the repertoire isn't going the way I want it to, but I just remember to stay positive. I tell myself that I can do it and just keep going until I reach my goals."