Wayland superintendent Paul Stein reflects on retirement
On October 17th, Wayland Public Schools Superintendent Paul Stein announced in an email to all parents and teachers that he will retire at the end of this school year. Stein is retiring after working in education for 41 years. He has spent the last six years working with Wayland Public Schools.
"I will experience stepping away from all of this as a great loss," Stein said. "In a paradoxical way, that's another gift: knowing I'm going to end my career in public education with pride and joy in my workplace."
"I don't know [what I'm going to do] yet; I really have to figure out some way to reinvent myself," Stein said. "I don't want to stop working, oddly enough. I am going to take some time to figure out what that might look like."
According to Stein, a new superintendent will likely be appointed by the end of the winter. The school committee will most likely hire a search firm in the near future to move through the process.
"This decision is not about any loss of enthusiasm or energy for the work or for the community," Stein said in an email he sent to the Wayland community. "Rather, the decision is a personal one, having everything to do with my family and the workings of the retirement system."
At this point in his career, Stein feels that retiring is what's best financially. His employment benefits reached their maximum a few years ago; however, Stein chose to stick around.
"Although it's been a seemingly brief 41 years since I began working as a teacher, this decision is not about any loss of enthusiasm or energy for the work or for the community," Stein said. "Rather, the decision is a personal one, having everything to do with my family and the workings of the retirement system."
"I'm still at a point in my life where I have energy to explore other things. While I still have that energy, I want to be able to go and explore. You don't get to do that in life," Stein said. "The retirement system enables me to explore other things that I could not do without having the security that the system gives me. I want to take advantage of that."
The decision to finally say goodbye to Wayland and a lengthy career in education has been bittersweet for Stein.
"I loved my years in Wayland. Seriously, I really felt lucky," Stein said. "When you start off as a teacher, you don't know where your career is going to take you, and I've been very lucky in the sense that my career took me to some really interesting jobs."
Stein believes that with every advancement in life, something has to to be given up.
"I'm feeling it," Stein said. "If this wasn't a good place or I was bored or tired or angry, it would be different. But I'm none of those things, it's just the opposite. So it's a good way to leave, but it also highlights what you're going to lose."
"You are [always] excited about the next step but you're bummed," Stein said. "I have to go to this place, and I have to start all over. I'm a little nervous, but I am also excited about whatever the future is going to bring. I have developed really good, close, [and] professional relationships with a lot of people throughout the district."
Throughout Stein's career, he has had the experience of being a substitute teacher, math student teacher, social worker, math teacher/counselor, science teacher/counselor, director, house administrator, principal, assistant superintendent for student resources, deputy superintendent, and superintendent.
"Each [transition] was a learning curve for me. The fact that I ended my career in public education [is great], [considering] it's kind of like the top job. I had learned so much over the course of my career that I knew what I had to do when I got the job," Stein said. "I just loved working with Wayland; it was a great way to lead up to my retirement."
Stein accomplished a lot during his years with Wayland, although he modestly states that no one person could've achieved everything they did by themselves. He considers one the biggest achievements to be the elementary grade school reconfiguration in which Loker Elementary School moved from a kindergarten school to a K-5 school. Happy Hollow and Claypit Hill elementary schools moved from grades 1-5 schools to grades K-5. This was a significant change for the district and a successful transition according to Stein.
"The hardest thing for me, because I could've [retired] earlier than now, is leaving Wayland and leaving this job in particular," Stein said.
According to Stein, in order to be a successful superintendent, it's important that you enjoy the connection with different constituencies. You have to love education and that instructional part of education, which is what teaching and learning is all about. You also have to be a people person.
"I love working in Wayland. I have felt so fortunate to be Wayland's superintendent — fortunate to be among such talented staff, dedicated community servants (starting with the School Committee), supportive parents, and amazing students," Stein said in an email addressed to the Wayland community. "This constellation of talent and devotion makes Wayland a great place, not just to work but, most importantly, for schooling."
"As a school leader I've always felt incredibly supported, he's someone that I know believes in the experience of the students first and foremost," Principal Allyson Mizoguchi said. "He really individualizes; he bases his decisions on the experience of individual kids, and that's been really inspiring and grounding to me. He is thoughtful, [and] he is thorough in his thinking. [He is also] very celebratory, [and] quick to praise the work that is happening in the district, and never takes any of the credit for it."
"I'm very sad because I have enjoyed working with him and learning from him so much. I'm grateful to have had the chance to work with him and grateful that he's been the leader of our district for 6 years," Mizoguchi said. "It's a combination of emotions somewhere between personal loss as well as just huge excitement for him, and gratitude that he was here for those 6 years."
Leave a Comment
Donate to Wayland Student Press
Your donation will support the student journalists of Wayland High School. Your contribution will allow us to purchase equipment, cover our annual website hosting costs and sponsor admission and traveling costs for the annual JEA journalism convention.
About the Writers
Hannah Rice, Editor-in-Chief
Hannah Rice, class of 2019, is a co-editor-in-chief of WSPN. This is her third year on the WSPN staff. In the past, she has been a co-multimedia editor...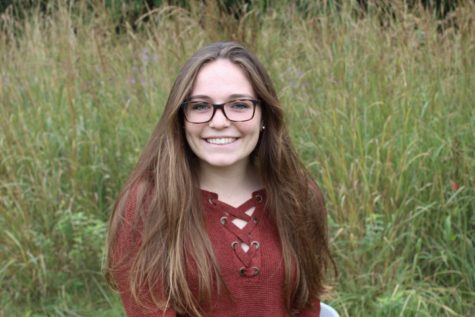 Kate Balicki, Multimedia Editor
Kate Balicki, class of 2019, is in her third year of journalism. She is a multimedia editor this year. Outside of class, she enjoys playing basketball...