Wayland prepares for powderpuff game against Weston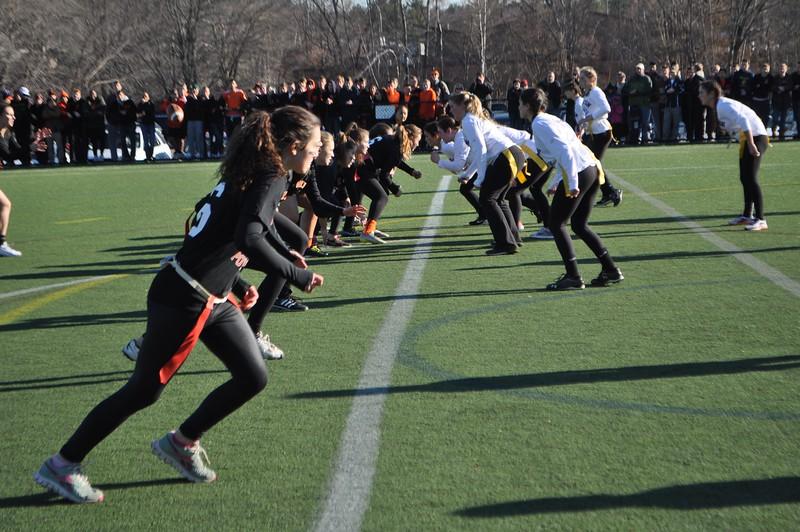 Each year on Spirit Day, the senior girls of Wayland and Weston High School gear up in face-paint, custom jerseys, and flags around their waists, ready to battle. The Powderpuff football game is a long-standing tradition, and this year the game will take place at Wayland High School on November 23.
After weeks of practicing, the Warriors will show up at the turf on Wednesday prepared to win. Following in tradition, the girls have been coached by the captains of the football team. This year's coaches are seniors Christian Boschetto, Josh Nova, Everett Tillet, Jeremiah Darlington and Liam Henning.
"The tradition of the powderpuff game has always been a special one. It's just a fun time for the girls to bond and play for school pride against Weston," Christian Boschetto said.
Although the girls have never played organized football before, and many were unfamiliar with the game, they've overcome the challenges of learning to play a new sport as a team.
"Teaching people from square one about something new has its own challenges," Josh Nova said. "From explaining the purpose of the game to each individual position, it all had to do be done, but the girls have stepped up to the plate and all of the coaches, including myself, are very proud of them."
With just days left before the game, the coaches and players on the team feel confident that they are prepared to dominate the school's biggest rival. The girls have been able to discover their talents on the field and fill into their roles on the team. After many practices, the coaches have created a line-up that they believe will lead them to victory.
"This year we have a stellar backfield with Sydney Hsu at quarterback accompanied by talented backs in Nyah Webb and Aliyah Glover," Boschetto said. "On defense we have Callie Junkin and Jenia Brewington holding down the linebacking positions with Kirsten Grazewski at safety over the top."
The tradition is one that many students around the school feel is an important one because of various aspects. Many of the girls expressed that the game has brought them closer with their classmates and has been a beneficial experience as a whole.
"I have really enjoyed being able to play with so many girls in my grade that don't play the same sports I do in high school," Kirsten Grazewski said. "Some of them I played with growing up and others I have never been on a team with so it's really cool to get to play with them now."
According to players, practices have been very fun.
"I really liked the overall atmosphere at practice, it was really fun and lighthearted and I definitely got a lot of laughs," said Grazewski.
According to quarterback Sydney Hsu, Powderpuff is a meaningful tradition that gets the girls involved in a big part of American culture.
"I feel like the players and coaches have really bonded through Powderpuff," Hsu said. "We are all working hard every day in practice because we want to smack Weston. I also have enjoyed learning the game of football, thanks to our awesome coaches."
"It's a great bonding experience for all of us including the coaches, and they do a great job teaching us how to play while keeping it relaxed and enjoyable," Grazewski said.
In the past three years, the Warriors have been undefeated against the Wildcats, allowing only one touchdown on those three games.